Confusion Emerges as Men 'Seek' 2017 Women-Rep Positions
Confusion Emerges as Men 'Seek' 2017 Women-Rep Positions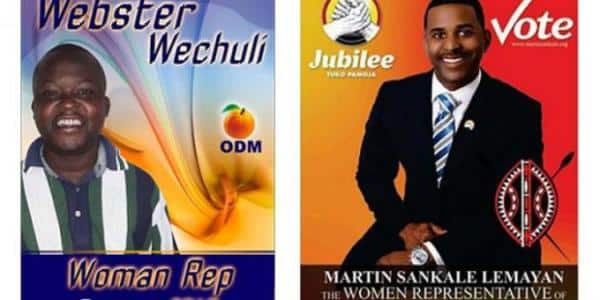 An interesting debate emerged on social media Tuesday morning when posters purported to be of two men seeking Women Representative positions in Bungoma and Kajiado were unveiled.
The conversation boggled the minds of many who highlighted that the much awaited 2017 General Election could just be full of drama.
A section of the public noted that it was ridiculous of the alleged men to vie for the position which is meant to be occupied by women.
However, others opined that it was not an absurd phenomenon as there were no restrictions in terms of gender.
Nonetheless, according to the Kenyan Constitution, the position is titled the Woman County Representative hence designating it for the female.
"The National Assembly consists of forty-seven women, each elected by the registered voters of the counties, each county constituting a single member constituency," Article 97 of the Constitution reads in part.
Women representatives have the role of promoting the interests of women and girls within their counties.
They are involved in coming up with laws and policies to uplift the women and girls. Through parliament, they should lobby and advocate for equal treatment and opportunities for the women and girls.
Confusion Emerges as Men 'Seek' 2017 Women-Rep Positions