Drama in Kwale as Uhuru tells opposition MP to Stop lecturing him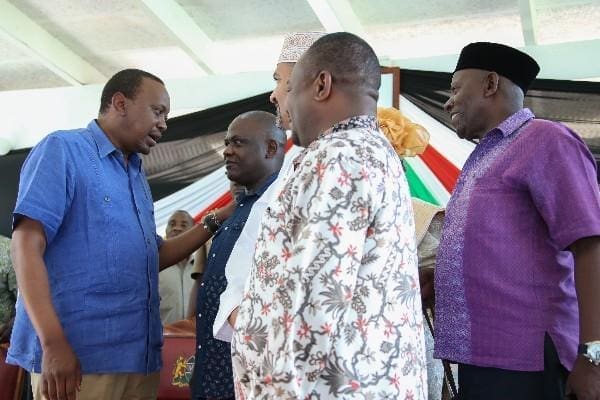 Msambweni MP Suleiman Dori found himself on the receiving end when President Uhuru Kenyatta dressed him down during a rally on Saturday.
This happened after the opposition leader differed with Uhuru on land issues in the area.
Dori had urged the president to help solve land issues in Vumbu, Gasi, Magaoni settlement scheme and Vidziyani as well as expansion of Ukunda airstrip.
"Land problem in Msambweni is big problem and we are sure if you intervene it can be solved," said Dori.
But Uhuru said leaders who have issues are free to visit his office and look for solutions instead of lecturing him.
"No need to stand in front of microphone and start lecturing the president. You should come to my office we dialogue and tell locals the solution instead of lecturing us," he said.
He said there is need for leaders to have respect for one another.
"We were not elected to bring our issues in public. But the other coalition is used to that habit of lecturing other people [and] they should stop it," he said in reference to the Cord coalition.
He told the MP that citizens will not benefit from empty promises and the rhetoric of their leaders, but from their hard work.
"Come to my office so that we can sit and discuss all issues of land you mentioned so that we can help wananchi. That is what we want," said Uhuru.
He said that the controversial Waitiki land problem in Likoni was solved after area MP Masoud Mwahima met him and deliberated on the issue.
Dori promised the president that once the land issues are solved in the area locals will automatically shift allegiance and support Jubilee in 2017.
The President was concluding his four-day tour of the Coastal region.
He commissioned various projects in the region including the Mkanda dam water project in Lunga Lunga and Msambweni hospital radiology equipment and renal and ICU unit equipment.
He was accompanied by Deputy president William Ruto, Kwale Governor Salim Mvurya and deputy governor Fatuma Achani.
Others were MPs Zainab Chizuga, Mustafa Iddi, Gideon Mung'aro, Khatib Mwashetani, Water CS Eugine Wamalwa and Lands CS Jacob Kaimenyi.