Jubilee senators pass contentious election law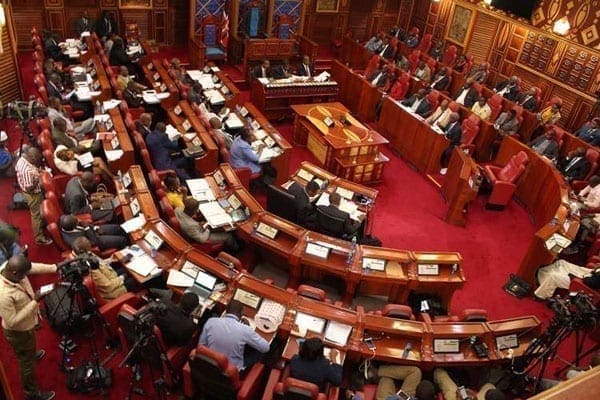 Jubilee senators left the Senate on Thursday midnight a delighted lot after successfully passing contentious Election Law (Amendment) Bill, without amendments, paving way for President Uhuru Kenyatta to assent it into law.
This is despite spirited efforts by the opposition led by minority leader Moses Wetang'ula that the Election Law (Amendment) Bill was unconstitutional and could plunge the country into chaos.
Senator Wetang'ula called for the voice of reason to prevail saying the Senate should rise above parochial interests that does not advance the interests of the country.
"Bulldoze what you want but don't drag our image into the mud. Let's be bipartisan and salvage the image of this House," Mr Wetang'ula said.
But, the jubilee lawmakers, who appeared not ready to delay passage of the Bill by disagreeing with some clauses, used their numbers to defeat all the amendments fronted by the Opposition.
26 lawmakers voted in support of the Bill as 10 voted against it, rendering a blow to the Opposition's push to have the law struck out.
Mr Wetangula said the process through which the laws were passed was not fair, saying that unauthorised senator had been allowed to vote.
"This amounts to cheating. This is rigging," he claimed.
Cord had warned that it would call mass action if the laws are passed after they claimed they were meant to introduce use of manual backup to rig the next general election.
The Opposition wants electronic system used in the next general election whereas Jubilee has maintained that a backup must be used to ensure eligible voters are not denied the chance to vote.
The joint legal affairs and ICT committee agreed that the use of technology in elections should be used in this year's election and that a backup mechanism would only be triggered where there was a failure in technology in exceptional cases.
However, the committee that sought public views before reporting to the House observed that there was need to define the type of backup system that would be used.
The committee report indicated that most stakeholders' submissions supported the need for a backup system but differed on the type of backup system to be deployed, which could be manual, electronic, a hybrid or a layered system.
"There is need to clearly define the circumstances which may trigger the use of a backup mechanism," the report said.
 -nation.co.ke