Police arrest ex-Tanzania PM Lowassa for illegal rally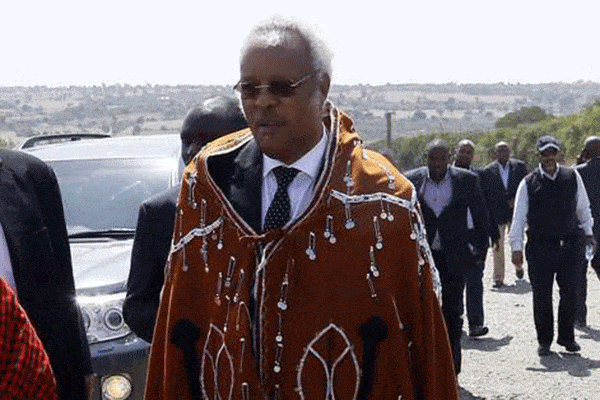 Former Tanzania prime minister and Chadema party leader Edward Lowassa was arrested and briefly detained by police in Geita for allegedly holding an illegal meeting.
Mr Lowassa, who was coming from Kagera in the company of other senior Chadema officials, arrived in Geita at about 3.30pm and was received by party members and supporters.
Chadema members on bikes and a minibus escorted Mr Lowassa on his way to Nkome Ward to hunt for votes for a civic by-election.
His convoy of five vehicles arrived at a road junction in Geita town and Mr Lowassa, who ran against President John Magufuli of CCM in 2015, took some moments to greet residents.
YELLED
The former premier waved to the residents who yelled and said they were hungry but the politician urged them to remain calm as he was heading to Nkome for campaigns.
As Mr Lowassa greeted the residents, police arrived in two vehicles and ordered him to remain in his car and be driven to the local police station.
He obliged, but the residents followed him yelling and chanting, "People's president!
A police van and another vehicle carrying Chadema official Mwesiga Baregu entered the police station but other vehicles were blocked.
When the locals tried to enter the police station against a police order, officers restrained them using clubs and belts.
LOCKDOWN
Police lobbed tear-gas canisters at the crowd that had swelled after the three-minute chaos.
Mr Lowassa was whisked away through the back door of the station and taken to the office of Geita Regional Police Commander Mponjoli Mwabulambo for questioning.
The road leading to the office of the regional commissioner was manned by Field Force Unit members, who did not allow anyone to enter his office compound.
Chadema director of training and organisation Singo Belabenson told The Citizen that Mr Lowassa's entourage had stopped at the marketplace to buy fruits and did not intend to hold a campaign rally there.
Chadema Special Seat MP Upendo Peneza echoed Mr Belabenson's claims, saying Mr Lowassa had not eaten anything since he left Bukoba.
-nation.co.ke