Ignore gossip, I am still Muthama's wife, says Agnes Kavindu
Ignore gossip, I am still Muthama's wife, says Agnes Kavindu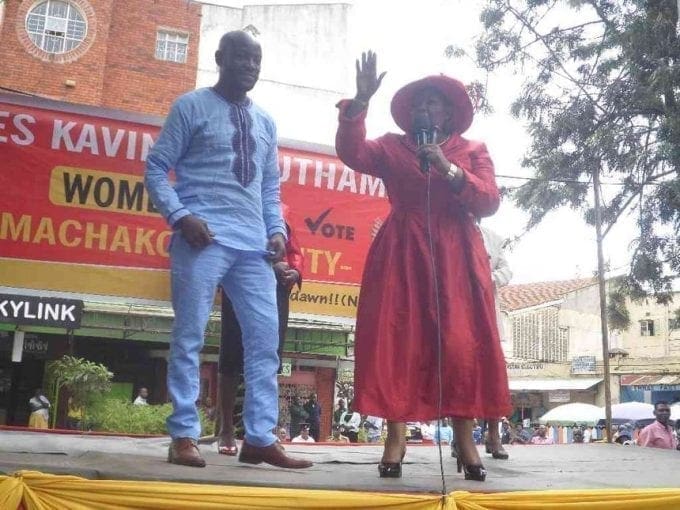 Machakos politician Agnes Kavindu has publicly defended her marriage to Senator Johnson Muthama saying she is still his wife.
In a rally at Mulu Mutisya grounds on Monday, Kavindu paraded her son Moses Muthama before a jubilant crowd, saying this is enough proof they are together.
"I know you have heard some gossip in the media but I ask you…who does this gentleman here resemble?" she asked and the crowd roared 'Muthama'.
"That should tell you I am still his wife."
In a media briefing at his residence in Tala on May 19, Muthama said they got divorced in 1983 and accused Kavindu of trying to use his name to gain political mileage.
But Kavindu, who will vie for woman representative on a Jubilee ticket, asked the electorate to ignore the "petty discussions" as she is determined to deliver.
She promised to open rehabilitation centres, using the Affirmative Action Fund, for youths addicted to drugs should she win the August 8 general election.
The preacher cum politician said majority of youths in the county have turned to drugs because they are frustrated.
She promised that those who complete their rehabilitation programmes will be given money to start businesses.
"I have very good plans for youths addicted to drugs and miraa. We will fund them so they can engage in income-generating activities," she said.
The politician added that she will ensure women get funds for table banking and money-making activities such as poultry farming.
Kavindu asked the people to ignore party politics and vote for leaders based on performance records.
Her chances of becoming woman MP increased when independent candidate Lucy Sila dropped her bid to support her.
Kavindu will face eight other candidates in the race.
Source link-the-star.co.ke
Ignore gossip, I am still Muthama's wife, says Agnes Kavindu: