Did Roselyn Akombe change tune after Jubilee got her the job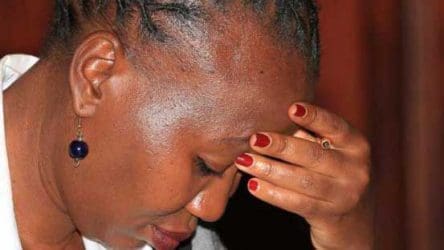 Fresh details are emerging on how former electoral commissioner Roselyn Akombe turned against the very backers who propelled her into the commission.
Interviews with multiple people involved in her identification and selection as a commissioner of the Independent Electoral and Boundaries Commission (IEBC) say besides her qualifications, connections with top Jubilee strategists played into her appointment.
Akombe was among the few top candidates who survived in the original list presented to President Uhuru Kenyatta for consideration and appointment. Before that, she braved stiff horse-trading amongst Jubilee and NASA panelists in the Bernedette Musundi panel which conducted the recruitment.
"At the panel level, she made her case very well and in fact, Jubilee side was hesitant on her on account of alleged links with one of the ODM MPs in her home region. On this account, we stood up for her and she sailed," a NASA affiliate member of the panel told Sunday Standard.
When her name was forwarded to the President, it is said the two Jubilee affiliates — one a lawyer and the other an MP who had been her buddies for long — lobbied for her saying they could sway her to their side.
"On her own, and with her suspect over-qualification, she wouldn't have made it. Some people picked on her qualification and sold this narrative that they could manipulate her to their side's advantage. It turns out that they had no clue who she was and they are now paying the price," another source said
Contacted, one of the persons mentioned as being close to Akombe, nominated MP Cecily Mbarire, agreed that she was indeed friends with the former commissioner, but added a rider: "Circumstances change."
She refused to be drawn into detailed discussion on her former friend: "I'd rather keep quiet."
Another person, a member of the selection panel who supposedly placed a good word for her, similarly stuck to his guns on keeping mum on account of his role.
Sunday Standard investigations also established that two Jubilee MPs and a prominent lawyer were send out to threaten and intimidate her when she refused to do the bidding for her political sponsors.
Akombe is said to have recorded the threats against her, including a conversations with one of her friends who had been send to deliver a message to her. At IEBC, she is said to have formed the habit of taking copious notes during meetings. She has since confirmed that attempts were made to make her beholden to certain political forces.
Her recruitment was the stuff horse-trading is made of. Chairman Chebukati, whom she has since declared a weak manager, was the selection panel's bait to President Kenyatta to ensure top scorer Tukero Ole Kina, a political dark horse, was picked. In the interviews, Chebukati came second last, only managing 63.17 per cent. The only person he beat is a fellow whose recruitment was vetoed by the Ethics and Anti-Corruption Commission (EACC).
Ole Kina had scored 76.33 per cent and that was not even the highest. The top scorer in the chairman's category had been former Judges and Magistrates Vetting Board member Roselyn Odede, who was dropped on account of misconceived political affiliation.
Impressive candidates
Between Odede and Chebukati and excluding Ole Kina were other impressive candidates – Mutakha Kangu (72.22), Lukas Naikuni (71.87), Taib Ali Taib (71.12), Florence Mwangangi (69.72) and Margaret Shava (66.33).
Many of Akombe's type and qualification fell in the heat of horse-trading. Central's most qualified candidate Ann Wanja Kariuki, an expert in electoral matters who had conducted electoral activities in the US, was shot down to position two with a score of 64.22 per cent.
And even then, Central's top scorer, former Truth, Justice and Reconciliation Commissioner Margaret Shava (63.33) was by-passed for Upper Eastern's less impressive Consolata Nkatha Maina (55.33). Lower Eastern's top scorer and anti-corruption crusader Sam Kimeu (68.22) was dropped in the altar of regional balance. Western's top scorer was Kangu, who was knocked off on political reasons and his place taken by Prof Henry Kizito who has a PhD in IT.
The perfect match for Akombe in terms of experience and qualification was the Luo-Nyanza top nominee Zephaniah Aura who scored the highest marks in the whole recruitment exercise at 80 per cent. Aura was left out by President Kenyatta when he made his picks.
Ambassador Kibiwott Kurgat was recruited from North Rift. He was position three.
Source link-standardmedia.co.ke
Did Roselyn Akombe change tune after Jubilee got her the job