KOT roast Godec, say Kenyans don't meddle with US elections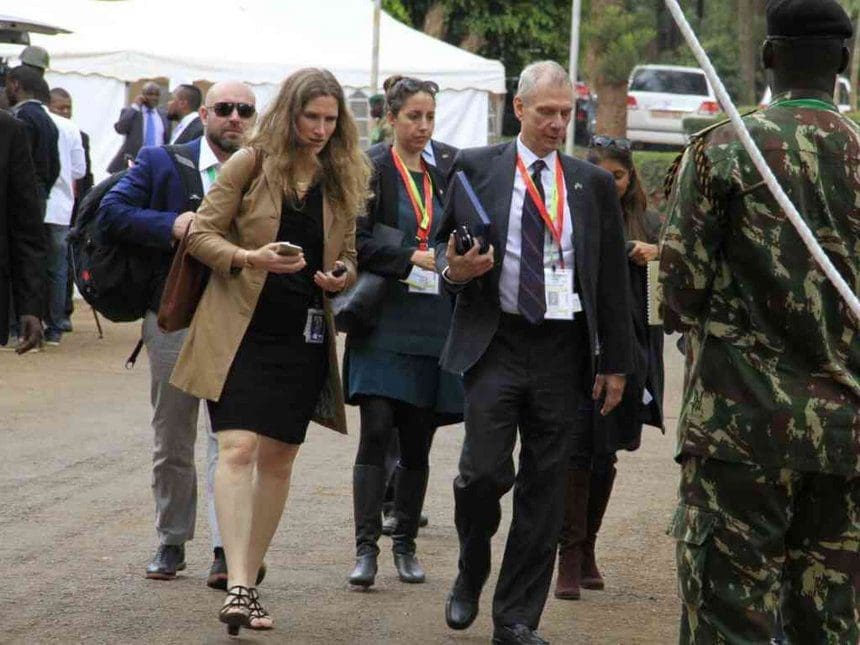 Kenyans on Twitter have asked US ambassador Robert Godec to stop meddling with the country's affairs ahead of the presidential vote later this month.
They expressed their displeasure on Wednesday after Godec issued a statement warning against violence.
The envoy on Monday told politicians to reject violence and ensure their supporters do the same.
"Kenyan leaders should publicly reject violence…some Kenyans are stoking community tensions and it must stop," he said after one person died in Siaya during the Opposition's protests against IEBC.
Godec and his counterparts from other countries also threatened travel bans against politicians who impede preparations for the repeat race by President Uhuru Kenyatta and NASA leader Raila Odinga.
Social media users who did not take the statement lightly took on Godec via #GodecInfects.
"The US has a long history of interfering with peoples will in different countries. US has helped create dictators," Karani Onsomu‏ said.
Kamba Pundit‏ said: "You see, USA is no longer a serious democracy. That's why envoys like [Godec] are busy blackmailing NASA to drop their demands," she said.
Pundit further noted the official is US ambassador, not President Uhuru Kenyatta's aide, so he should "stop interfering with our elections."
A Twitter user named Pal Jeff‏ told the ambassador to revisit his role and realise "issuing threats and commands aren't part of it".
Shaw Kemp Grady said: "Somebody tell [Godec] to keep the American visa to himself. All Kenyans need is a free, fair and credible election, not US visa."
'@amerix' said: "Hon. Godec, kindly let Kenyans decide their destiny. Don't meddle. No Kenyan envoy interferes with USA internal processes."
One 'Patriot' said western supremacy no longer has a place in Kenya.
"After all we have the same brain capacity. We want to do what is right."
'It's Kabelo' said: "Raila suffered to bring democracy to this country …you can't coerce him to reverse gains made, Godec."
But other users were of the opinion that the National Super Alliance is not ready to accept any truth ahead of the elections.
"If you must fight with GSUs, why don't you make a date at Kasarani Sports Ground?" Peterson Kabugi‏ said.
Romano Githangu said: "#GodecInfects is another hashtag by Nasarites. They've forgotten how the other day they wanted UN to conduct elections."
Le Prince‏ wrote: "Haha, now Raila is blaming the US embassy for his upcoming loss. Haha, the man is senile."
Raila announced nationwide demonstrations will take place every Monday and Friday until major changes are made at the IEBC.
Among what he and his co-principals want is for IEBC Chief Executive Officer Ezra Chiloba to resign.
Jubilee Party and NASA leaders had separate talks with IEBC officials at Bomas of Kenya in Nairobi on Tuesday.
NASA representative Siaya Senator James Orengo said the talks were not successful but that they were ongoing.
Orengo, who is also the Opposition's lawyer, said NASA won't be blackmailed into backing out of its weekly demonstrations.
He noted they have a right to picket and that protests will take place as scheduled on Friday.
"We are not going to be blackmailed. We are not very enthusiastic about going to the united States of America. The diplomats have overstepped its mandate, our sovereignty cannot be surrendered to anyone," he said.
Deputy President William Ruto reported Jubilee's meeting was fruitful and that they made it clear that they are ready for the vote.
"I want to categorically state that we have assured the commission we have no conditions…we have no minimum conditions or minimum irreducibles…we are ready for the election," he said.
"We are ready for the election…next time we come here will be after the [vote] to pick our certificates."
Source link-the-star.co.ke
KOT roast Godec, say Kenyans don't meddle with US elections