Police want Jimmy Wanjigi, wife barred from leaving Kenya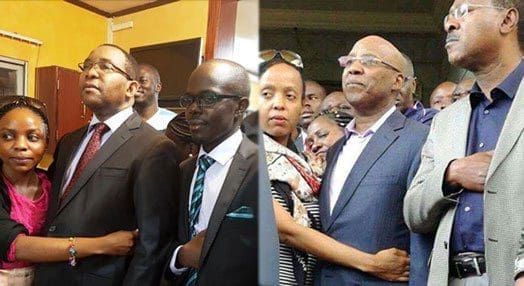 Police have asked a court to bar businessman Jimmy Wanjigi and his wife Irene Nzisa from leaving the country.
On Tuesday, the Recce Squad broke into Wanjigi's Muthaiga home after a cache of weapons was found at his Malindi home.
In an address to the press after resurfacing on Wednesday, Wanjigi accused the government of planning to execute him and persecuting his family.
Police want Jimmy Wanjigi, wife barred
Police made their requests in an affidavit sworn by criminal investigator Joseph Gichuki on behalf of the IG.
The service argued Wanjigi should be restricted from flying out without informing police or obtaining court permission.
They also want the Sh50,000 anticipatory bail the billionaire was granted set aside.
The IG said the matters under investigation are very serious and pose a serious threat to national security.
"The cash bail is inordinately low compared to the offences under investigation," stated the affidavit.
"Owing to the nature and seriousness of the offences under investigation, strict terms should be observed."
Police further want the businessman and his wife to submit their travel documents to the court.
Justice Chacha declined to review the bond terms saying there has been no response to the affidavit by the DPP.
The order barring police from arresting Wanjigi was extended to December 8.
Source link-the-star.co.ke
Police want Jimmy Wanjigi, wife barred from leaving Kenya