President Uhuru Kenyatta reveals Raila Odinga's failed plot
President Uhuru Kenyatta reveals Raila Odinga's failed plot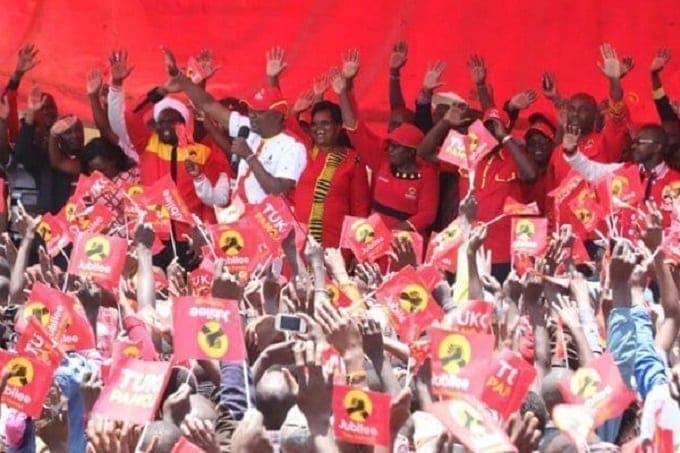 President Uhuru Kenyatta has criticised National Super Alliance leader Raila Odinga's visit to the United Kingdom, accusing him of a plot to bring about a shared government.
While campaigning in Kenol, Murang'a County, the President Kenyatta said that the country does not need foreign mediators for it is not in crisis.
"We are not interested in mediation or being put together. Kofi Annan is not present in Kenya. He (Raila) should fly back to the country to mobilise voters," he said.
The President said that Mr Odinga was portraying the country's democracy as rotten to attract attention from the international community that will then offer to mediate the election standoff.
He insisted that Kenya will only be governed by Kenyans, therefore the Nasa leader should return and campaign if he wants to be President.
"We told you before that he never wanted an election and he still does not want one, that's why he is busy claiming that the country is at war," he said.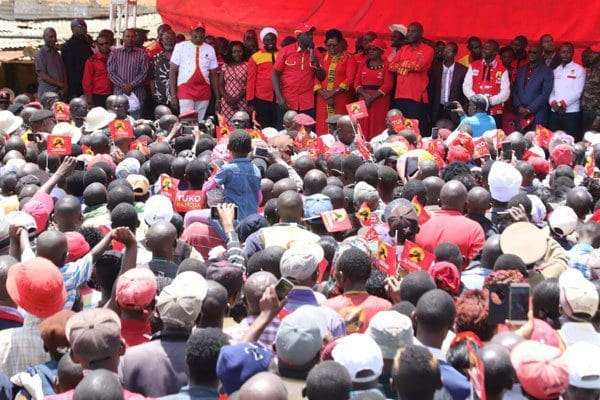 Deputy President William Ruto addresses Murang'a residents at Kenol on October 14, 2017. PHOTO | JOSEPH KANYI | NATION MEDIA GROUP
Mr Odinga flew to London on Wednesday and on Friday gave a speech at Chatam House, decrying the deteriorating democracy in Africa.
The President and his Deputy William Ruto were accompanied by Murang'a leaders including Governor Mwangi wa Iria and Senator Irungu Kang'ata.
The Head of State further criticised Nasa leaders for leading anti-IEBC demos that ended in destruction of property.
"His work [has] been to call for demonstrations, inciting his supporters to attack police officers and steal from other Kenyans," he said.
Mr Kenyatta insisted that Mr Odinga was never prepared for election and resolved to fly to the UK after his attempts to push for a shared government fell through.
"We have been pleading with Kenyans to vote for us; but our counterpart, since the court delivered its ruling, his work has been to call for press conferences and demonstrations."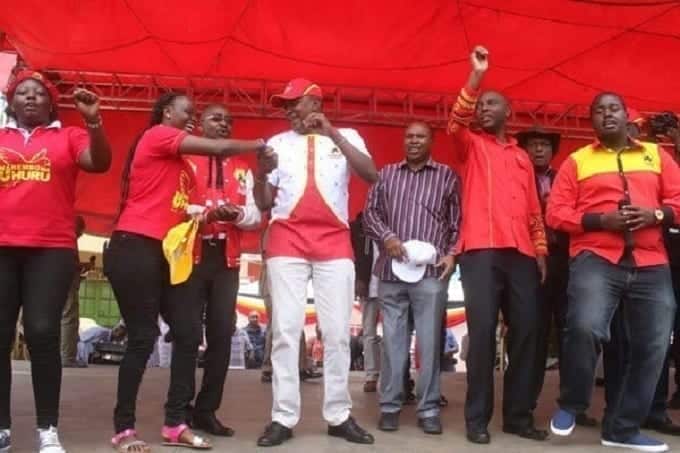 President Uhuru Kenyatta and other leaders dance before addressing a rally at Kenol, Murang'a County, on October 14, 2017. They called for peace. PHOTO | JOSEPH KANYI | NATION MEDIA GROUP
Deputy President William Ruto said Kenya is not ready for a coalition government and that Kenyans have the final say on who becomes president.
"Let Raila Odinga know that there will be no power sharing negotiations in this country.
"The Constitution that was unanimously passed by the electorate in 2010 dictates that it is them who determine who will lead the country," Mr Ruto said.
The Deputy President maintained that there will be an election on October 26 with or without the Nasa presidential candidate's participation.
-Source link-nation.co.ke
President Uhuru Kenyatta reveals Raila Odinga's failed plot: