Stop attacking Raila, ODM warns Miguna Miguna
Stop attacking Raila or we will abandon you, ODM warns Miguna Miguna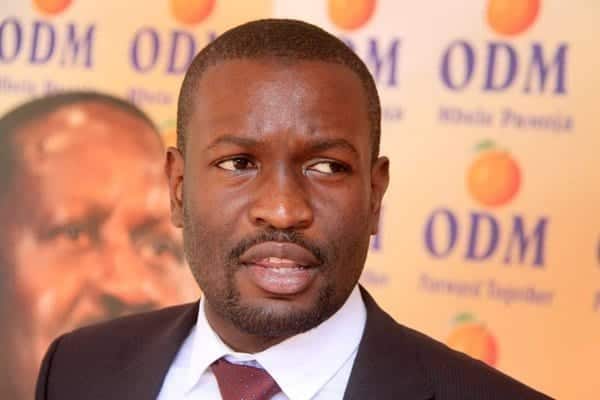 ODM leaders on Saturday cautioned lawyer Miguna Miguna against his continued attacks on Mr Raila Odinga.
Speaking separately, they said Mr Odinga, the ODM leader, made efforts to save him from deportation.
ACCUSATIONS
The leaders said that while they sympathise with Dr Miguna over his tribulations, they would abandon him if he does not respect Mr Odinga.
Dr Miguna on Saturday blamed Mr Odinga for allegedly failing to help him return to Kenya.
In a statement from Dubai, where he was deported to, Dr Miguna accused Mr Odinga of dining with his oppressors.
"Raila Odinga cannot and should not be enjoying Easter abroad and dining with the tyrants when the person who swore him in as the people's president is being murdered by those who stole his election and who have killed and maimed his supporters," he said.
WARNING
ODM Secretary-General Edwin Sifuna, Secretary of Political Affairs Opiyo Wandayi, MPs Samuel Atandi (Alego/Usonga), Gideon Ochanda (Bondo) and Homa Bay politician and businessman Hilary Alila condemned Dr Miguna's latest claims.
Mr Sifuna said Dr Miguna's lawyers were providing pro bono services courtesy of Mr Odinga in a bid to save him, and questioned why the lawyer was bitter.
"We have documented all the efforts Jakom (Mr Odinga) has put in to help Miguna. Mzee has instructed all his lawyers, including myself, to work on the case at great peril.
"The team led by [Siaya Senator James] Orengo have been on this matter since he was arrested in February," Mr Sifuna said.
He added: "We have suffered brutality both from police and State sympathisers. Our passports have been revoked! Mzee has personally been coming to court. He was at the airport risking his own safety. I therefore don't see how anyone can say that Mzee has abandoned Miguna."
BOUNDARY
Mr Wandayi said that as much as they sympathise with Miguna, "he must know the boundary."
"Raila Odinga as an institution, is a no-go zone for him to spew vitriol. He and Raila don't play in the same league. As far as we're concerned, the moment he starts showing open disrespect for Raila, he crosses the red line," Mr Wandayi told the Nation.
He added: "I urge the concerned State officials to facilitate his return to the country as soon as possible so that he can resume his normal life without unnecessary drama."
However, Mr Atandi said Mr Miguna has become an object being used by forces against the prosperity of Kenya.
He said the issue is a scheme set up by Mr Miguna to undermine Mr Odinga's credibility.
"We have noticed that the political realignment of 2022 is coming into play and Miguna is being used by NIS agents aligned to forces within Jubilee Government against unity of purpose between HE Raila Odinga and HE Uhuru Kenyatta," the Alego Usonga MP said.
SUPPORT
Dr Miguna, he added, has fallen prey to "those machinations and is now abusing the whole thing."
He faulted the lawyer over his claims of swearing in Mr Odinga saying: "Even his attire did not resemble those worn by judicial officers administering oaths.
"We are not going to spare him. If he continues to undermine Raila Odinga we shall not spare him and shall support his deportation. He has touched a live wire," the legislator said.
Dr Ochanda and Mr Alila accused Dr Miguna of being reckless.
"He is generally a reckless person. Raila would not even have gone to the airport to see him if he never supported him," said Dr Ochanda.
LAW
He faulted Dr Miguna for refusing to give his passport to the immigration officials.
"That is the requirement. You must give your travel documents. Of course he was worried that his passport could be confiscated but we would have fought a different war rather than refusing to give it to officials," Dr Ochanda said.
Mr Alila said Dr Miguna must follow the law and not expect it to be bent in his favour.
"We realise there are deliberate attempts by Miguna to water down the gains of the new working relationship between Raila Odinga and President Kenyatta and Miguna must style up for the sake of the country," Mr Alila said.
He accused Dr Miguna of having ill motives in his latest attack on Mr Odinga.
"We have seen all efforts by Mr Odinga to save Miguna and even braving the heavily armed security authorities at the airport to try and secure Miguna's release was a clear indication the former Prime Minister was committed to protect him," said Mr Alila.
-nation.co.ke