D-Day for Kalonzo Musyoka's future in NASA
Make or break for Raila-Kalonzo ties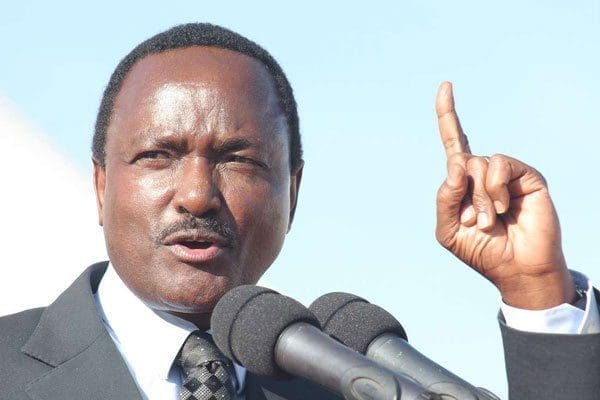 A meeting of Kamba leaders this morning is expected to determine the future relationship between National Super Alliance (NASA) principals Kalonzo Musyoka and Raila Odinga.
Kalonzo, the Wiper party leader, is expected at the meeting at Koma Ranch in Machakos County where all leaders, irrespective of party affiliation, have been invited to chart the community's political future.
Today's meeting is dubbed "2018 Kamba Unity Declaration Accord."
But it is the hard-line stance by some Wiper MPs who declared they had had enough of Orange Democratic Movement (ODM) party attacks on Kalonzo, and that it was time to review his relationship with Raila, that pointed to the possible political consequences of today's meeting.
"The meeting will make or break the relationship between Wiper and ODM, owing to the continued chest thumping by Raila's allies and their backstabbing as far as our preferred presidential candidate is concerned. We will no longer stomach this nonsense. Today we will not mince our words," said an MP who did not want to be named.
FINAL STAGE
Advertisement
Avoid fake news! Subscribe to the Standard SMS service and receive factual, verified breaking news as it happens. Text the word 'NEWS' to 22840
Today's meeting sets the final stage for a formal disintegration of NASA and is seen as a reaction to a plan by Moses Wetang'ula's Ford Kenya and Musalia Mudavadi's Amani National Congress (ANC) to dissolve their parties to form a bigger political outfit for Western Kenya.
Initially, after Raila struck a deal with President Uhuru Kenyatta, Kalonzo, Wetang'ula and Mudavadi teamed up, arguing they were kept in the dark. That show of unity saw Kalonzo push for registration of NASA as a political party.
But by isolating Wiper to instead focus on Luhya unity, Wetang'ula and Mudavadi appear to have broken away, leaving Kalonzo on his own.
"Kalonzo has no choice but to forge new alliances outside Ukambani. He has several amenable and friendly regions. He must be seen to conquer new frontiers as opposed to relying on previous arrangements. They are too fluid," said Makueni Senator Mutula Kilonzo Jr.
Mr Kilonzo, the deputy Wiper leader, said he was not surprised by the shifting political landscape.
"I am not surprised at all that ANC and Ford Kenya are forming a new alliance. It was only a question of time before realignments occur. The Western region will most likely have already forged a new alliance, if the events of last week and the talk of mergers are anything to go by," said the senator.
LUHYA LEADERS
Kalonzo has urged the Luhya leaders to remain in NASA to make it more formidable for the 2022 presidential contest.
"Mudavadi and Wetang'ula are my dear friends and NASA co-principals. When they are strong and united, I am extremely happy. This translates to a stronger NASA," said Kalonzo.
Regarding Wiper's relationship with ODM, Mwingi Central MP Gideon Mulyungi was blunter, citing Wetang'ula's ouster as Senate minority leader and utterances by some ODM MPs that the party would support Deputy President William Ruto for the presidency in 2022.
"All these are clear manifestations that we are not walking the same path with ODM. If they have decided to overthrow Wetang'ula from the Senate then we will also oust ODM from NASA. They can go and join Jubilee (Party)," Mr Mulyungi said.
Kitui Senator Enoch Wambua, a close ally of Kalonzo, challenged ODM to exit from NASA without dragging other coalition partners down.
"NASA is a union of the willing. They (Raila and his ODM) may quit if they wish so without triggering unnecessary friction in the Opposition. We have tolerated enough belittling and anguish from Raila's men, who have disparaged Kalonzo in previous elections. We demand mutual respect from our partners. No ifs or buts," Mr Wambua said.
Mulyungi described NASA as a polygamous marriage that would not end if one wife chose to walk out.
"We are not interested in NASA/Jubilee cohabitation and we will not be party to a coalition where there is no respect. Raila will not be allowed to auction other NASA partners to Jubilee without consulting them. We will kick him out," Mulyungi said.
At the Koma Ranch meeting, the Kamba leaders are expected to endorse Kalonzo as the community spokesman and give him blessings to seek new formidable political alliances.
OTHER LEADERS
But it is unclear how such a declaration would go down with other leaders like Machakos Governor Alfred Mutua, who have challenged Kalonzo for the region's supremacy.
Yesterday, Dr Mutua supported the call for unity but noted that the invitation to the meeting was biased as it only targeted Wiper leaders.
"We don't know the convener of the meeting neither have we been consulted. I would not have a problem attending a meeting properly convened," said Mutua, the Maendeleo Chap Chap party leader.
The convenor, former Machakos senator Johnstone Muthama, said the meeting had been in the pipeline for a while.
"We have postponed this meeting twice but today is our day. We want to talk about unity just like the rest of the leaders in the country have been doing. We have invited elected leaders both present and past, church leaders, professional community, opinion leaders, aspiring political leaders and youths," said Mr Muthama.
He said by convening the meeting, the community was following in the footsteps of others.
"President Uhuru Kenyatta has been meeting his people as has his deputy, William Ruto. After the 'golden handshake', Raila went to Nyanza, met his people and promised them he would be back with Uhuru. Musalia Mudavadi and Moses Wetang'ula have done the same. Kamba's don't want to be left behind," said Muthama.
While some leaders argue that it's time Kalonzo charted his own political destiny, others feel his best bet is in NASA.
His confidante, Makueni MP Dan Maanzo, welcomed the Luhya unity talks, saying Kalonzo stood to benefit