KENYA USA DIASPORA SACCO AGM IN SEATTLE WASHINGTON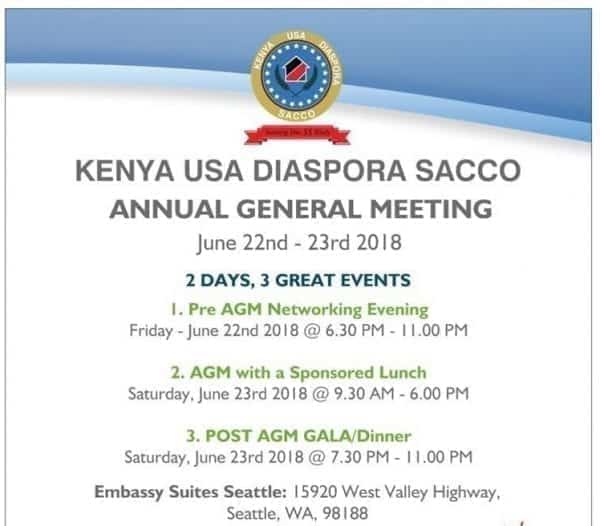 You are cordially invited to the 5th Diaspora Sacco Annual General Meeting to be held in Seattle, Washington this June.
This event is OPEN TO ALL and we are looking forward to meeting hundreds of Kenyans from across all our 50 States with our host Seattle leading the way.
Our Theme this year is 'Growth from Within'…
Thank you and see you ALL soon.
Below are the Event details.
3 EVENTS in SEATTLE, YOU DON'T WANT TO MISS !
1.Pre AGM Cocktail: Friday, June 22nd 2018
To recognize Diasporans who have had a great impact within their communities all across the US.
TIME: 6 PM – 10 PM
2.AGM with AGM SPONSORED LUNCH: Saturday, June 23rd 2018
ALL DAY AGM – Great SACCO Agenda deliberations.
TIME: 9 AM – 6 PM
3.POST AGM Sponsored DINNER: Saturday, June 23rd 2018
To recognize institutions, corporations, Government Officials helping in furthering the Diaspora Agenda.
TIME: 7 PM – 11 PM
ADMISSION: FREE
VENUE: Embassy Suites, Seattle
15920 West Valley Highway
Seattle, WA, 98188