VIDEO: Uhuru Kenyatta whips Jubilee MPs into backing VAT proposal
VIDEO: Uhuru Kenyatta whips Jubilee MPs into backing VAT proposal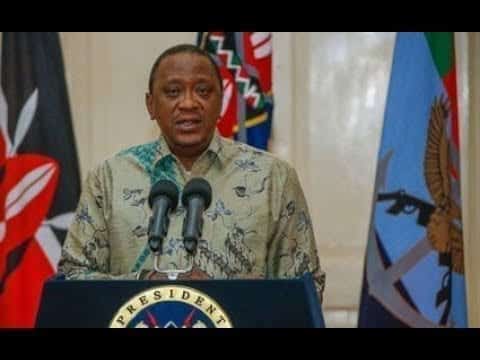 President Uhuru Kenyatta on Tuesday whipped Jubilee Party Members of Parliament into supporting his proposal for an eight per cent Value Added Tax on petroleum products.
The president's communication team said a "heated debate" took place at State House in Nairobi County, where the president met the MPs. Deputy President William Ruto and party secretary-general Raphael Tuju also attended the meeting.
COMMON MWANANCHI
Nasa resolves to support Uhuru's memorandum on 8% VAT on fuel
With the opposition's National Super Alliance (Nasa) MPs also agreeing to back the proposal, on condition that it is opened for review in one year, the dissenting voices in the House seem to have been drowned.
National Assembly Majority Leader Aden Duale earlier told NTV that 181 MPs attended the meeting.
Some MPs from the president's party vehemently opposed the VAT as well, as the other proposed tax cuts, saying it will affect the common mwananchi.
At the meeting, State House said, the MPs also unanimously agreed that there should be budgetary cuts to accommodate the reduction in Value Added Tax (VAT).
The cuts will be across the board and will see citizens make a contribution through the eight per cent VAT. The government, Parliament and county governments will contribute through reductions in budgetary allocations.
WARNING
At the meeting, President Kenyatta emphasised that transporters should not take advantage and increase fares, warning that any contravention will lead to the withdrawal of licences.
The president on Friday refused to assent to the Finance Bill 2018/19 and returned it to Parliament for re-consideration with a proposal to reduce VAT on all petroleum products by 50 per cent.
The reduction of VAT from 16 to 8 per cent means price of petrol will drop from Sh127 to about Sh118 while those of diesel will come down from Sh 115 to Sh 107 in Nairobi.
To plug the budgetary gap occasion by the proposed VAT reduction, President Kenyatta, in an address to the nation, recommended wide-ranging austerity measures across all arms of government to cut on costs.
He proposed cuts in government spending will target less essential cost areas such as hospitality, foreign and domestic travel, training and seminars.
"These budget cuts ask of us in government that we tighten our belts. It also ensures that the sacrifices made by tax-compliant Kenyans are matched by discipline," said the President on Friday.
 -nation.co.ke
VIDEO: Uhuru Kenyatta whips Jubilee MPs into backing VAT proposal