GOOD TIDINGS: MOBILITY WITH SMILES SHARES LOVE IN KISII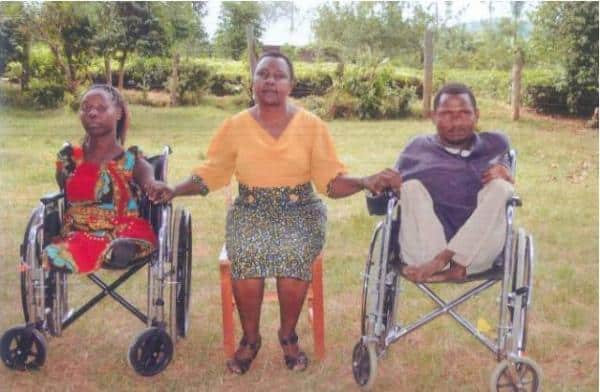 Madam Eunice Kemunto who is 25 years old and born with no hands and no legs.  She is a single mother.  She resides in Kisii County with her mother who is a widow and they are poor.  She is home based and immobile and has never had a wheelchair.
Valentine's Day 2019 will forever remain eched in the mind and heart of one Eunice
Kemunto. This was after the team from Optiven Foundation through one of our partners,
Madam Catherine went to visit with her. Unlike other visits, the visit from Optiven
Foundation, came with good tidings in a way that was unexpected bearing in mind the
challenges that Kemunto has been through. It is the tidings that brought about a change for
the better for the beautiful Kemunto and Mr. Peter Obwoge – both of whom received
wheelchairs to enable them travel with ease.
Kemunto was introduced to Optiven by Madam Catherine Njeru of Diverse Touch, a staunch
member of the Destiny Life Church in Syokimau. Her story inspired the panel serving the
Mobility with Smiles Campaign, that was out to donate wheelchairs to deserving cases. At
only 25 years of age, Kemunto has been able to achieve a lot. This is despite the physical
challenge of living with disability, Kemunto who lives in Kisii County, has weathered the
storms of life making the best of her situation. She has been greatly supported by her family
with her mother leading from the front. This is despite Kemunto having lost her father and
her mother being a widow without consistent income. In her appreciation to Optiven
Foundation, Kemunto who was born without limbs said it was finally a dream come true for
her to finally get a wheelchair for the very first time.
The launch of the Mobility with Smiles in 2018 was a partnership with philanthropists in the
United States many of whom are investors with Optiven Limited. The campaign saw Optiven
Foundation receiving 20 wheelchairs which were disbursed to the needy cases from
Valentines Day on 14th February 2019. According to the panel reviewing the applications for
the wheelchairs, it became apparent that the need for the support towards enabling mobility
is enormous. Mr. George Wachiuri, the chairman of the Optiven Foundation while addressing
beneficiaries who received their wheelchairs on 14th February 2019, called for more
philanthropists to come on board and make the campaign more vibrant and
transformational.
Wachiuri says, "the committee received overwhelming requests and it
seemed a big challenge to pick out the few who must receive the wheelchairs in order to move
from point a to b." He added that because of the need, the Optiven Foundation will in the
interim be at hand to receive any donations towards making Mobility with Smiles a
continuous effort. Wachiuri thanked the donors who had made the campaign possible
adding that Optiven Foundation will continue in it's endeavor to provide transformation at
the community level. He welcomed all who wish to partner with the foundation to do so in
order to seal the increasing gap of needs that are yet to be met fully. The campaign which
was launched in September 2018 was able to provide a number of beneficiaries with
wheelchairs including two minors from Kibera and Huruma informal settlements in Nairobi
County, among others.