Obama Includes Kenya in New African Basketball League
Barack Obama Brings NBA-like League to Africa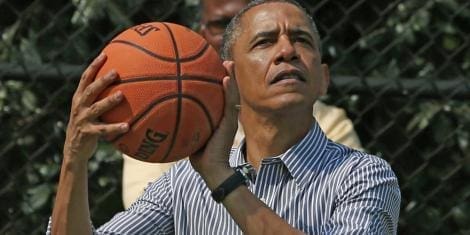 Former United States President Barack Obama is bringing the revered basketball league to Africa and Kenya will be among the participants.
According to a report by the Associated Press, Obama joined other high-end brands such as Nike and Pepsi who expressed interest in expanding the successful league.
NBA commissioner Adam Silver revealed that Obama, who is an ardent fan of the sport, wanted to "be directly involved with these activities in Africa."
He, however, failed to disclose the details of the role that the 44th President of the US will be playing once the game is rolled out on the continent.
"As we've been talking about this concept over the last several months, there's been a tremendous reception from many of our NBA team owners … and in addition, several of the partners of the NBA have expressed a strong desire to work with us in Africa," stated Silver.
Appearing in a video during a meeting of the would-be sponsors of the sport, Obama remarked that when people put in effort in sports, they will definitely be rewarded.
"I hope you learn through sport what it means to play as a team, and even if you are the best player, your job is not just to show off but your job is to make your teammates better," president Obama stated.
The game, which is slated to commence in January 2020, will initially contain 12 teams from Angola, Egypt, Kenya, Morocco, Nigeria, Rwanda, Senegal, South Africa and Tunisia.
Each country will, however, only be allowed to have at most two teams competing in the league.
Qualification tournaments will take place later this year to determine the 20 teams that will participate in the league in 2020.