French President's Ksh340Billion Bag of Goodies to Uhuru
Uhuru driving President Emmanuel Macron
Emmanuel Macron, the president of France made the first visit to Kenya on Wednesday and announced a series of infrastructure deals amounting to over Ksh340 Billion to be undertaken in the country owing to the goodwill of the French people.
One of the deals will involve the construction of a modern railway line from the rather congested capital of Nairobi to the Jomo Kenyatta International Airport.
Another deal, which will cost over Ksh180 Billion, will be the establishment of a modern highway from Nairobi into the Mau regions. 
President Macron termed the deals as "respectful" partnerships between governments at a time when many countries in Africa, including Kenya, are starting to feel the pain of indebtedness to China.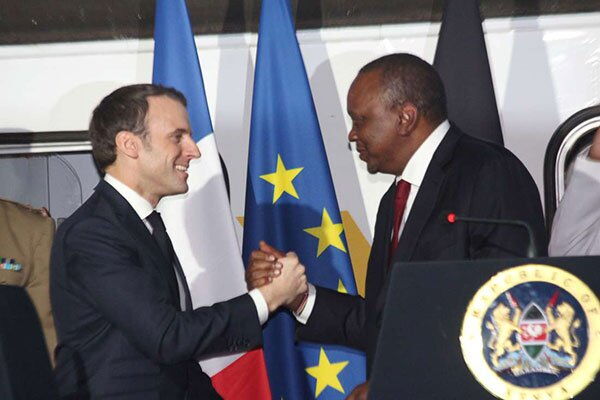 The French head of state was adamant that there was the need for fair trade relationships among countries and that the best kind of a deal is one which respected the receiving country's sovereignty and was "sustainable."
He ensured to indicate that the workings between France and Kenya will be "much more fair and profitable for the Kenyan people."
Macron also noted that undeserving deals are usually undertaken in countries "without creating jobs" (for the locals).
Also, and according to Macron, bad deals usually involve funding of long-term loans that plunge countries into irreversible debt in the name of major projects.
President Kenyatta apparently agreed with Macron by indicating that the railway project by France, "will help completely transform the lives of millions of urban workers". He added that it should be operational by 2021.
Kenya was the third destination for Macron in his visit to the region. He had initially visited Ethiopia and Djibouti for offers of other "respectful" deals for development.
The French statesman will attend the One Planet Summit on climate change in Nairobi on Thursday.
He has also been invited to the 25th anniversary of Rwanda's 1994 genocide that killed around 800,000 of its citizens but is yet to confirm if he will attend.
Rwanda has in the past accused France of complicity in the 1994 massacre.
President Uhuru took some time to drive President Macron around State House in the newly launched Peugeot 3008 to the amazement of other leaders present at the venue.