How Prophet Owuor lives large on Jayne Muthoni's estate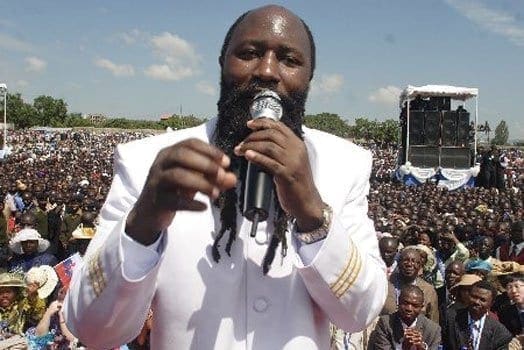 Prophet David Owuor has been living a princely lifestyle financed through proceeds from a multi-billion empire owned by a once-high-flying, fashionable lawyer-turned-pauper.
And today the 'Mightiest Prophet' will be asked to explain it.
He has been summoned to appear today at Kabete police station for questioning by the DCI about allegations that he fraudulently obtained properties owned by ex-lawyer Jayne Muthoni, 62.
Yesterday Muthoni's sister, Alyce Macharia told the Star that Jayne has been taken to a hospital for a check-up and tests to determine what drugs, if any, were used to weaken her memory and will. The facility was not identified.
According to documents obtained exclusively by the Star, the controversial prophet has a coterie of security, domestic workers and drivers who are pocketing millions of shillings monthly in salaries. Many work at his palatial Runda home, attesting to his sky's-the-limit expenditures funded by brainwashed followers.
The Star established that Owuor has been using collections from ex-influential lawyer Jayne Muthoni's lavish Dove Court apartments to pay at least 15 aides in Runda.
The staff — drivers, guards, housekeepers and gatekeepers —earn a combined monthly salary of Sh1 million.
Owuor has three drivers, the most junior pocketing Sh70,000 a month, the most senior Sh100,000. He has two security officers in his compound, one earning Sh100,000, the other Sh70,000.
Owuor has four housekeepers, three of them taking home Sh52,000 each per month and one earning Sh20, 000. He pays each of his gatekeepers Sh50,000 per month each.
Besides the awesome salaries, Owuor also pays Sh15,000 to each gatekeeper per month. Other staff get Sh10,000 each for rent outside the posh home.
Owour's staff are among the most highly paid personal staff in Kenya.
The Star also obtained a list of 10 luxury cars that Muthoni's family believes were bought using proceeds from their sister's properties.
They include six Mercedes-Benz cars manufactured between 2004 and 2012 and a 2014 Range Rover valued at Sh4.9 million.
Muthoni, a bishop in Owuor's church, was a lawyer to the powerful Vice President George Saitoti who is said to have bequeathed most of his properties to her.
She is one of the few multi-billionaires who abandoned their careers to support Owuor's ministry.
As Owuor's opulent lifestyle was exposed, the DCI summoned the self-proclaimed prophet for questioning today at Kabete police station. DCI is investigating allegations by Muthoni's family.
"We sent a letter to him through his lawyer and we asked him to choose the day he prefers between Thursday (today) and Friday (tomorrow)," one DCI officer at Kabete police station told the Star.
The summons was issued through Owuor's lawyer Kimani Watenga.
Detectives yesterday intensified their probe into claims the prophet and his Repentance and Holiness Ministry defrauded Jayne Muthoni, once a second-in-command bishop in the church.
Muthoni's family complained to the DCI thatOwuor and his ministry brainwashed their sister and took control of her multi-billion-shilling properties across the country.
Yesterday, Lilly Macharia, Owuor's follower whom Muthoni allegedly appointed as co-director of her real estate company — Shaba Investments Limited — was questioned for more than five hours by detectives.
Macharia, who was accompanied by senior bishops and lawyer Watenga, has been in charge of Muthoni's vast properties for more than 12 years.
Detectives are keen to establish the destination of millions of shillings wired from Muthoni's accounts for a period of 15 years when the estate was managed by Macharia.
The Star established that Macharia told the DCI that Muthoni appointed her to run the company after she reportedly developed a memory lapse. Macharia was a signatory to the company's bank accounts.
But the family questioned why the church never informed them of their relative's condition and why they were not made aware of Muthoni's intentions to appoint a co-director.
"These are the schemes that Owuor and his church were using to take over my sister's properties. We believe that Jayne was placed influence of some drugs that made her lose her memory," Duncan Njagi, Muthoni's brother said.
Njagi said Owuor has been using Muthoni's apartment on Riverside Drive in Nairobi as his formal office until recently. He moved out after the family raised the alarm.
The prophet, the family claimed, has also been using millions of shillings generated from their sister's Dove Court apartments on Rhapta Road in Westlands to finance his princely lifestyle.
The apartments are said to be generating about Sh10 million in rent alone per month. This translates to more than Sh1.3 billion over 12 years.
Muthoni is said to be languishing in abject poverty.
The family also accuses Owuor and his church of defrauding their sister of more than Sh800 million.
That money, they said, was part of the Sh1.1 billion that Muthoni's company received from the sale of a 1,200-acres in Thika.
Njagi said his sister's land was sold in 2011, but payments were made in instalments.
A few years after the first instalment was made, Njagi claimed that Owuor deceived her sister to drop the initial lawyer who negotiated the sale of the property and appoint another lawyer — Jane Gathara — his faithful and confidante.
"The money started going missing after the appointment of Gathara because we understand that the full amount was paid to Gathara and the money channelled elsewhere," Njagi said.
The DCI is also investigating the land saga.
Addressing a press conference at Laico Regency Hotel on Tuesday, Gathara denied claims she diverted the money and maintained it was deposited in Muthoni's account at the Bank of Africa.
How Prophet Owuor lives large on Jayne Muthoni's estate