VIDEO: Another university student Naomi Chepkemoi attacked by 'lover'

VIDEO: Another university student Naomi Chepkemoi attacked by 'lover'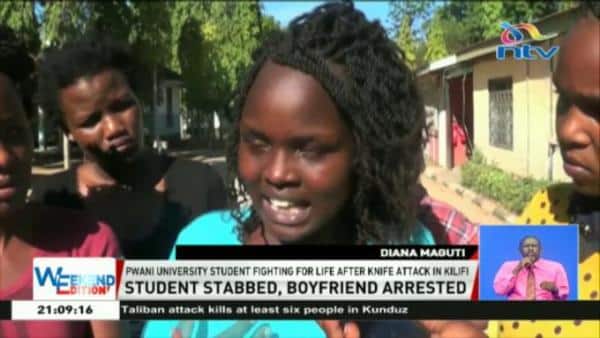 A Pwani University student is fighting for her life at Kilifi County Referral Hospital after she was stabbed several times by a man with whom they have child together, according to the police.
Ms Naomi Chepkemoi, a third-year public health major, was stabbed during an argument with the man at her house in Kilifi town.
Kilifi County Police Commander Patrick Okeri said the man, who is now in custody, travelled all the way from Nairobi on Sunday.
"Our police officers were alerted by neighbours of the incident and when they rushed there the man had locked the house. Police had to forcibly gain entry and rescue the woman," said Mr Okeri.
Mr Okeri said the man had travelled from Nairobi to demand why she had returned Sh3, 200 he had sent her last week.
"The two have a child together. The man sent the money for upkeep but he was shocked when the woman sent back the cash," he said.
Mr Okeri said Ms Chepkemoi told the man that her father asked her to end their relationship.
"The man travelled to Bomet where the child was with the woman's parent and he was denied to access to his child and that's when he decided to come to Mombasa to follow up on the issue with the woman," said Mr Okeri.
After talking for two hours, an argument ensued and the man stabbed the woman.
Ms Chepkemoi was taken to Kilifi County Referral Hospital where she is receiving treatment.
The suspect is set to be arraigned on Monday.
-nation.co.ke
VIDEO: Another university student Naomi Chepkemoi attacked by 'lover'