Tycoon Preacher Reveals How Wife Eloped With His Best Friend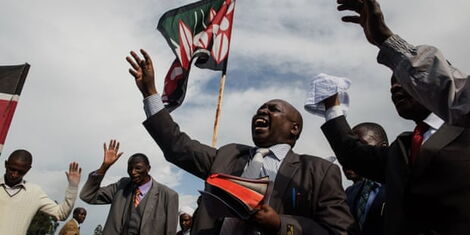 Tycoon Preacher Reveals How Wife Eloped With His Best Friend: A Nairobi tycoon preacher and former Catholic priest opened up about the tribulations thrust into his life after his wife eloped with his best friend.
John Oundo informed The Standard on Friday, September 13, how he was entangled in a love triangle marred with accusations of infidelity, death threats, uncouth revenge and millions stashed in a bank.
The businessman accused his best friend David Otiato, who works in an unspecified government office, of eloping with his wife Cate Nyakobo. He further stated that he had worked with Otiato before in government.
The Standards reports that Otiato further piled misery on the preacher by throwing him into police cells at Embakasi Police Station, Nairobi in September 2019, accusing the millionaire preacher of threatening to kill his estranged wife.
"I am tired and I now know cash rules the world. My best friend told me that I will sleep in the cold cell and he will sleep in my house, with my wife, and it has happened. I give up, let them take everything, the money, the house, the cars. Let them have it all," Oundo lamented.
The estranged couple have a fixed joint account which Oundo said has a balance of Ksh20 million. He, however, cannot access that cash without his wife's acknowledgment.
Oundo met his wife 13 years after he quit priesthood in 1997. He shared his plans with his best friend Otiato, who would later become his wife's boss.
The couple was blessed with four children and had a happy life until 2018 when his financial woes swung in.
Otiato, on being sought for comment, lashed out blaming the preacher for his predicaments.
"Oundo knows his wife cheats on him, so he wants to drag everyone into his problem. He is crying all over the place," Otiato asserted.
His wife also lashed back.
"I am going to divorce him, so there is no need to take about this issue. All he has told you is simply defamation," she responded.
He went on to admit that he caught her more than once cheating, affirming his best friends assertions.
"One day I came home unexpectedly. She knew I was in Kampala, and I wanted to surprise her. I came bearing gifts and while I opened the gate, I saw two figures in her car. It was at 11 pm. I opened the door and she was with a police officer. I forgave her," Oundo recalled.
Oundo, still at Embakasi Police Station regretted his life's decisions.
"I will come out of this and start afresh. All this is happening because my finances are low, but I have been rich before, I will be rich again," he cried out.
By JOHN MBATI
Source-kenyans.co.ke'
Tycoon Preacher Reveals How Wife Eloped With His Best Friend