PHOTOS: Mariga attends special prayers at Ruto's Karen home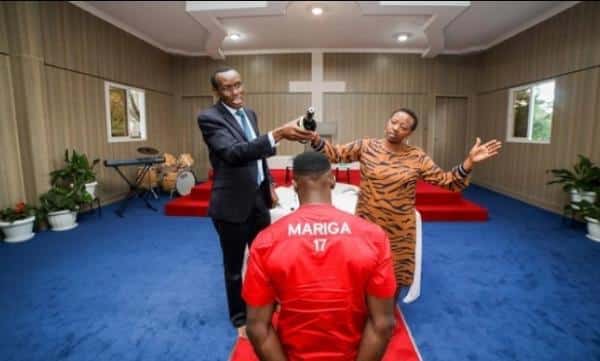 PHOTOS: Mariga attends special prayers at Ruto's Karen home: Jubilee candidate in Kibra by-election McDonald Mariga this week visited the National Prayer Altar at Deputy President William Ruto's Karen home for prayers.
According to the DP's wife Rachel Ruto, Mariga attended the fasting fellowship on Wednesday as he prepares for the by-election set for November 7, 2019.
Rachel wished him well in his endeavor and went ahead to quote scripture as she urged him on.
"Mcdonald Mariga visited us this Wednesday at the National Prayer Altar during our weekly Prayer and fasting fellowship.
"We joined together in prayer as we all wished him the best as he runs for the seat of member of parliament for Kibra constituency," said Rachel.
Adding: "Psalms 20:1-9 NKJV May the Lord answer you in the day of trouble; May the name of the God of Jacob defend you; May He send you help from the sanctuary, And strengthen you out of Zion; May He remember all your offerings, And accept your burnt sacrifice."
She assured Mariga that God would answer his prayers and instructed him to draw strength from the Almighty.
"Some trust in chariots & some in horses but we'll remember the name of the Lord our God. They have bowed down & fallen but we've risen & stand upright. Save Lord, May the King answer us when we call."
DP Ruto and his wife Rachel officially launched the National Prayer Altar in August saying they drew inspiration from David in the Bible who built an altar and offered burnt offerings and peace offerings.
As a result, God was moved and stopped a plague from destroying Israel.
By Vincent Kejitan
Source-standardmedia.co.ke
PHOTOS: Mariga attends special prayers at Ruto's Karen home