PHOTOS: Meet Singer Wanja Wohoro, Peter Nyong'o's wife
PHOTOS: Meet Singer Wanja Wohoro, Peter Nyong'o's wife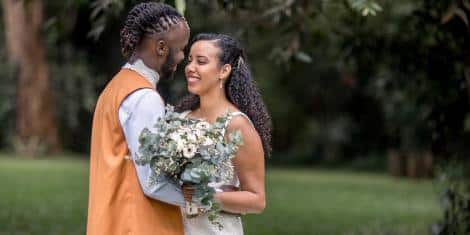 The younger brother of Hollywood star Lupita Nyong'o, Peter Nyong'o tied the note with his longtime girlfriend Wanja Wahoro at a private ceremony held at Zereniti House, in Limuru on July 30. The Kisumu governor's son and his wife took their social media platforms to shout to the world that they were finally a couple.
"I will walk for miles to water your roots every single day until you are too tall and impossible for anyone to ignore. My strong steadfast Acacia. Ineffable in stature and beauty. The shade of your branches will always be my refuge," wrote Junior Nyong'o.
Wanja made a beautiful bride wearing a white sleeveless dress and described her newlywed husband as her best friend. "You are a fixed point in my universe, and the best friend I've ever known," she wrote in part.
The Australian-born bride went on to admit that the wedding did not go quite as it was originally planned, but revealed that her big day turned out fine.
"Not the wedding we planned originally, but ultimately even more perfect and intimate than we could have ever imagined," she added.
However, Lupita Nyong'o wasn't able to attend the wedding due to coronavirus travels restrictions, so she streamed the ceremony. The 37-year-old star revealed Thursday that she'd watched her little brother's nuptials on her laptop from the comfort of her home. She shared a photo of her viewing setup to Instagram, along with some sweet photos from the low-key wedding.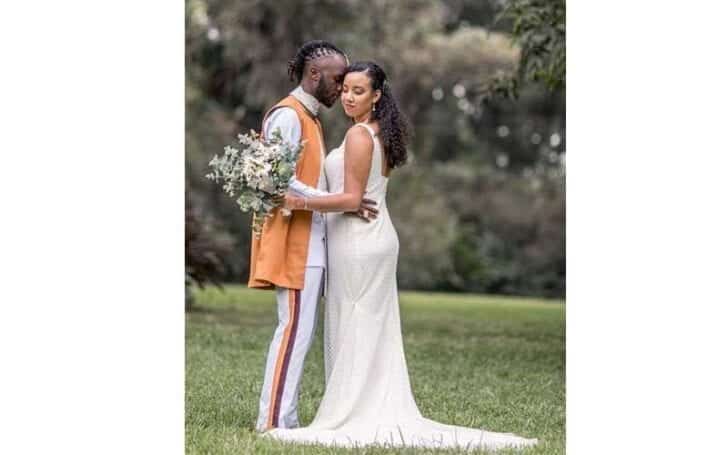 "Yup, he is off the market, folks! Sharing a moment of joy in my family's life when my sweet, gentle, loving baby brother @juniornyongo made his declaration of love to his new bride @wanjawohoro this week," Lupita wrote.
The Black Panther actress welcomed Wanja to their family saying: "I still cannot believe I was not physically present, but thank God for technology! Welcome to the family, Wanja!"
In November last year, Junior and Wanjaheld their engagement ceremony at an undisclosed location in the city after low-key dating.  Wanja, who is from a blend of Australian and Kenyan family (her dad is Kenyan and mum Australian) is a singer, songwriter, guitarist, and freelance writer. She previously spoke on how they met saying: "We met at a New Year's event in 2015. It's super long distance, but he's always the person I send ideas and songs to because he's also musical. He's biased but also critical enough to give me pointers. He's excited for things I do and very supportive."
She permanently relocated to Kenya from Australia three years ago.
Source-standardmedia.co.ke
Here is all You Need to Know About Talented Singer Wanja Eleanor Wohoro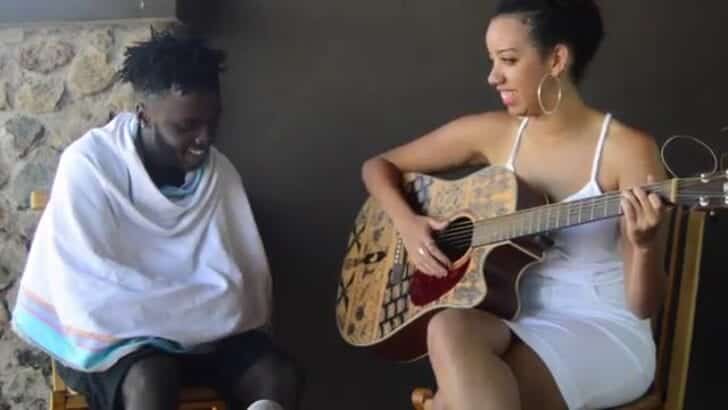 Wanja Eleanor Wohoro, 23, is a self-taught singer, songwriter, guitarist and freelance writer from Nairobi and Sydney. Known mostly for her sultry covers of popular songs, Wanja Wohoro began songwriting from the age of 13; teaching herself the guitar and the piano and practicing accompaniment and composition.
Her influences include the mellow sultry sounds of Amy Winehouse, Ella Fitzgerald, Adele and Corinne Bailey-Rae alongside an extensive exposure to Indie/Folk and jazz music. Her Debut EP, "High Tide", includes songs of varying genres, all exploring the different sides of her unique musicianship, cultural influences, and vocal ability.
She graduated from Sydney University with a double major in Music and Sociology in 2016. Wanja is currently running a funds drive through GoFundMe and M-Pesa to help record her first album titled 'Matriarch.'
She's also the girlfriend of Lupita Nyong'o's brother, Peter.
She spoke to Buzz about her plans for her musical future after resettling in the country and completing her studies.
Were you born and raised here?
My dad is Kenyan and my mum's Australian. I was born in Australia and moved here when I was four. When I was 13, I moved back to Australia for high school and university. I only came back to live permanently this year.
You're also a freelance writer?
I love to write, and since I graduated from university last year I have been using that (writing articles and interviews) as my secondary work.
What interested you in Queens of Jazz?
It's a good initiative I believe in. There should be a platform that celebrates women who are really out here doing their thing but who don't get offered as many positions. I think there's a bias all over the world towards male performers and instrumentalists in jazz.
What drew you to music?
Music has always been something I indulged in. The last time I was in a newspaper was because I was in Sunflower Kids' Club when I was 9 or 10 years.
That's the first time I started singing in a kids' choir, doing solos and we also recorded an album.
Then it became a hobby and my parents bought me a guitar. Guitar and piano are the cheapest, easiest accessible, as well as the most recognisable and strongest accompanying instruments to sing to.
I wanted to sing the songs I like, I didn't want to need someone to play with me to sing what I enjoy or to write music.
My dad used to be a musician back in the day and he always had a guitar in the house, so that came naturally to me. I hated piano lessons as a child because it's all classical and I'm not adept at playing music through notation rather by ear. I try to play harder music and finding musical charts online.
When did you think this might be a career for you?
In 2013, I recorded an EP (extended play) produced by Jaaz Odongo, and a music video for a song, "Doors and Walls".
I wasn't sure about what to study in university and had asked my parents for advice. They asked me to give music a try by working on a full project and see how I felt after that. So after that I realised that I wanted to do music. In retrospect I feel like I've grown a lot since then, but I also gained an audience that I didn't have before.
Which musicians influenced your song choices?
When I started writing music properly and wanted to record it I found myself veering more towards female singer/songwriters who also played instruments, because they were comfortable with their instruments as well as penning all their lyrics to be in control of their music: Lianne La Havas, Corinne Bailey Rae, and Amy Winehouse.
What's your style of music?
That's the point where I always get stuck. I love jazz and it's one of my big influences because it's fun to sing, but the music I write is more in the indie-alternative-soul kind of thing. It's not a real genre but genres are a bit confining. Your sound is an evolution that's a sum of your musical influences but also individual experiences. I listened to a lot of indie music in high school, then a lot of neo-soul and hip hop afterwards.
What influences your lyrics?
I've always been interested in the art of writing; enjoyed putting words together. I'm also big on having long debates. I always wanted to write music that reflects that, writing things that were real and true to me in a deep way as opposed to what I think people would want to hear or sound cool.
What is Matriarch about?
It's 10 tracks about female empowerment, basically being a woman in 2017. I want to be a female leader in the community that others would feel they can trust and look up to. I think there's so many things to write about that it's silly to limit yourself to love songs. I'm doing a crowd funding to be able to afford to record it, and it's due next year January or February.
#MeToo is something a lot of women and girls are relating to, what's been your experience?
Every woman has experienced it, some on horrifying, disgusting and traumatic levels, it's feeling unsafe, spoken to or looked at inappropriately. It makes me very angry and I'm passionate about speaking out about it. I wrote a song about it in the album called "Voices" because all womankind has a #MeToo story.
Why choose to be a musician in Kenya rather than in Australia?
Because in Kenya I don't feel like I'm on an island, I feel a lot more support from friends and peers. And I know that it's possible to be successful and content because I've seen it in them. In Australia it feels like you're a small fish in a very big pond.
How is your relationship (to Peter Nyong'o) working out with the music?
We met at a New Year's event in 2015. It's super long distance, but he's always the person I send ideas and songs to because he's also musical. Obviously he's biased but also critical enough to give me pointers. He's excited for things I do and very supportive.
Have you been scared while performing?
I'm more scared performing in front of my family than before fans, simply because it will hurt more if they are not happy or proud. I used to get really nervous while performing before, anticipating the next high note or the next song. I played in bars a lot in Sydney, which was good practice.
Favourite hobbies?
Dancing with my friends and going out for a beer; it's default Australian. In Sydney there was a South African bar that sold Tusker, and it was just nostalgic.
What would surprise people about you?
I'm a vegan but it's hard to avoid dairy products in Kenya so I'm not as strict as I should be. I have tiny hands which make guitar sucky for me. Because of that I love to cook, to eat interesting food besides salads and Thai food.
Watch her acoustic duet with her boyfriend, Peter Nyong'o.
Source-nairobiwire.com
"Baby It's Cold Outside" – Wanja Wohoro Feat. Junior Nyong'o (Acoustic Duet)
PHOTOS: Meet Singer Wanja Wohoro, Peter Nyong'o's wife