DJ Mo and Size 8 washing dirty linen in public to save other's marriages

DJ Mo and Size 8 washing dirty linen in public to save other's marriages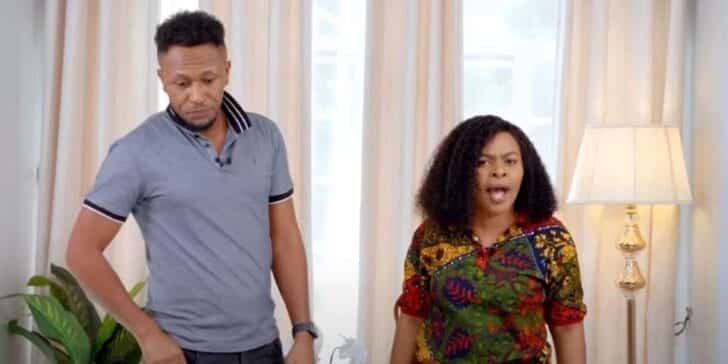 For the past three months, DJ Mo and Size 8 Reborn (Samuel and Linet Muraya) have been washing their dirty linen in public, quite literally.
Through their reality show Dine with the Murayas that airs on NTV every Monday at 10pm, the couple has let the public into skeletons in their marriage closet — from bedroom matters to doing business as a couple and everything in between.
Most observers dismissed it as another vain act of showmanship when the show began, but from the reactions they have been receiving, one can tell the celebrity couple is showing the way on handling disagreements in marriage.
Their latest episode remained one of the most watched videos on YouTube in Kenya by Thursday evening with 96,000 views.
"You just don't know how many marriages you've saved through this programme," Dennis Ochieng commented on Wednesday.
Jane Wachira added: "I'm not yet married but for real nimejifunza (I've learnt) a lot."
One of the factors that have drawn fans to the show is its raw nature, like in one episode where they were discussing family planning, and a belligerent DJ Mo blurted: "Hakuna haja kupretend kufurahisha Wakenya (No need for pretence for the sake of exciting Kenyans)."
Discuss their problems
The two have been married for seven years and have two children. And rather than show the rosy side of their union, they chose to discuss their problems.
They usually invite another couple to help iron out whatever issue they may be having over a meal at the family's dinner table. All this happens as a crew of at least five people films the action.
"So many guys, especially when it comes to social media, want to show the positive side; that they don't have issues, that everything is progressing well," says DJ Mo. "But we had our own issues and thought: 'Why don't we bring guys on board to at least help solve these issues?'"
Size 8, a gospel artiste and actress, adds that they decided to film their problem-solving sessions for the sake of those who do not have the opportunity to get mentors in their marriages.
"We decided that, as we solve our issues, let's record and then put it on social media and on TV. And so when you see us on TV or social media, you learn. So, we all learn," she says.
They say there have been great improvements in their marriage ever since they started discussing their problems openly. Size 8 says DJ Mo is nowadays more inclined to give her a listening ear.
Discuss the raw
Dine with the Murayas is reminiscent of the Red Table Talk online talk show by American actor Will Smith and his wife Jada, who also sometimes discuss the raw and intimate details of their beleaguered marriage of 23 years. In one of their recent episodes, they discussed infidelity as Jada came clean on her "entanglement" with singer August Alsina during a stormy period of their marriage.
Size 8, in a July interview with Kiss FM, said they are out to portray what people go through in marriages.
"Realness is better than fakeness. We are a mirror and we portray what people out there are going through," she said. "We are not sharing too much. We are receiving so many calls; it's like I have become a marriage counsellor."
DJ Mo said in a recent episode: "For every episode we did, guys could say, 'On that one, we relate.'"
The Murayas' show entered its second season on Monday with its 13th episode. Lifestyle lists some takeaways from the episodes aired so far, which have a combined YouTube viewership of about 2.5 million.
1. When the husband's workplace is full of tempting damsels
Celebrity entrepreneurs Simon and Sarah Kabu of Bonfire Adventures were the guest couple in this episode where the Murayas were discussing the challenges that come with your spouse being at your workplace.
Size 8 opened up about the girls who come to her husband's workplace and leave suspicions that they are eyeing her man. Mrs Kabu agreed with her, noting that sometimes a husband can have flirtatious women making moves right in front of the wife at the workplace.
Mrs Kabu advised Size 8 to focus on the goals she wants to achieve while working with her husband, because by doing so she won't be bothered by the small stuff.
"The worst that can happen is that a person can be used and dumped. For you, you aren't going anywhere," Mrs Kabu told Size 8 as they prepared a meal at the kitchen.
In the living room, DJ Mo told Mr Kabu: "When a lady comes and hugs me, I have to explain."
Later, during dinner, Mr Kabu admitted that their marriage is far from perfect but they had found a way of rising above the small and not-so-small feuds to work together.
"It's a lot of sacrifice, a lot of communication, a lot of understanding. It is a combination of not one but many things involving both of you," he said.
Sarah added: "For you guys to work together, you must be friends — and not only friends but also partners in crime. You know, those small secrets, the wife has to know. It is said, 'Couples who gossip together love each other.'"
2. The coil that made Size 8 blow a fuse
This was a drama-packed episode where Size 8 complained that the coil she has been using for family planning was causing untold pain on her during her periods.
"The contraceptive I am using right now is draining me. It makes me lose a lot of blood and have cramps," lamented Size 8.
The guest couple on this episode was Dr David Thuo, the founder of La Femme Healthcare, and his wife Martha who also works at La Femme. Both are gynaecologists and are the ones who attended to Size 8 during her two deliveries.
When the guests arrived, Size 8 did not mince her words: "I have a problem with my husband. He doesn't understand what I'm going through, Dr Thuo."
But DJ Mo appeared detached, repeatedly saying family planning is a woman's issue. More drama was yet to come as Size 8 later walked out of the dining room to protest her husband's indifference towards the suffering she had to endure.
In the "boy talk" as the wives whipped up a meal in the kitchen, Dr Thuo told DJ Mo that some contraception methods change women's moods.
"In some cases, a wife's moods can go overboard and she can lock the man out or throw food on the floor, to the shock of the husband," he said.
3. The small matter of submission
"Kama mwanaume, ukikubali kukaliwa, ukubali kidogo kidogo ku twistiwa ama ulegee kidogo, utajikuta umetoka kuwa kichwa, umekuwa shingo."
That was DJ Mo discussing the issue of submission in his household, saying that if a man cedes even an inch of his authority, he will move from being the head to the neck in no time.
The guest couple for this episode was Mr Dominic Thuku and his wife Purity, entrepreneurs who first met in church.
Size 8 said to Mrs Thuku: "(DJ Mo) has been a dictator, for lack of a better word. He wants me to submit to him, but he won't submit to me. And I'm not asking him to submit as a woman — just to listen to me."
She added: "I feel manipulated, controlled, enslaved. Till I told him, 'Do you know you'll kill my personality?'"
In the true fashion of a reality show, one of the scenes depicted Size 8 talking to the camera, where she had a deep message for her husband: "Mo, you found me when I was singing. And from what you are doing, it's like you want to dictate everything I do."
At the dining table, Mrs Thuku then gave her advice, asking DJ Mo to give Size 8 some room. This was in response to Size 8's claim that her husband was not happy with a certain song she was about to release.
"She can make some decisions in her career and what she needs in that case is your support, not necessarily the final say from you. Yes, you can give your opinion but give her that room to also make decisions," Mrs Thuku advised the DJ.
Mr Thuku advised DJ Mo to recognise that women sometimes speak up not to show power but just to be heard.
4. Discarding the seeds of discord
The latest episode featured the Murayas intervening in a bitter fallout in the marriage of gospel artiste Mr Seed (Moses Tarus Omondi) and his wife Nimo. "From today, call me Dr Love, because I've seen I can solve something," DJ Mo bragged at the end of the show.
Before the reconciliation, which happened over a meal at a Nairobi hotel, Mr Seed had had a disagreement with his wife who had walked out on him. Apparently, she had been informed by a friend who had spotted Mr Seed at a boys' party where there were lots of women.
As they had their meal, DJ Mo had a few words for the young artiste: "You have to be very careful with the friends you hang out with, because you don't expect your marriage to stand and 90 per cent of your friends are unmarried. You don't think the same, you don't do things the same. The way they think is different from you. What they do is different."
5. 'Or is it a scripted show?'
There are those who think the depictions of the Muraya household are too dramatic to be real.
And there are signs of this, for instance the positions each of them takes. Like it would happen in a radio show or any presentation to create debate, DJ Mo and Size 8 will almost always take contrasting perspectives on any topic.
For starters, the couple have a jar in their hose full of folded papers. It is on those papers that each of them wrote a disturbing issue to be discussed. They pick a piece for every show and each presents their view on a certain matter before they invite another couple to help discuss the issue. And one quickly notes that they have kept their children out of the picture.
The Murayas have not directly responded to the realness of their show or otherwise, but they always remind the public that theirs is never a perfect marriage. "Just the same way nyinyi huzipitia hizi shida (you face the various challenges of marriage), the Murayas are not any different," the narrator usually says in the prelude.
Well, Size 8 admits she is now a size 12 due to the body changes that come with child bearing. DJ Mo maintains the manly mien and does not look like he will cede a lot of ground in any topic.
Their 149,000 YouTube subscribers and the millions who watch them on NTV will sure be looking out for more servings from Dine with the Murayas.
By Elvis Ondieki
Source-https://nation.africa/