A Memorable Animal Orphanage Tour at the Foothills of Mt Kenya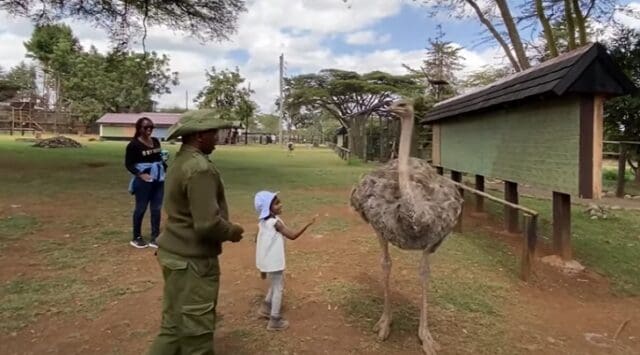 Travel makes you a much more awesome person by teaching you about the world, the people in it, pushes your boundaries and give you a chance to explore new things. Visiting Kenyan tourist destinations will always be a lifetime dream to nature enthusiasts with its wild animals and colorful birds.
Being a lover of nature, Bob Mwiti visited Mt Kenya Safari Club Animal Orphanage that has awesome views of Mt Kenya, beautiful gardens, horse-riding and incredible nature. This was during one of his holidays here in the country.
Bob lives in Tampa, Florida in USA which is a vibrant city and with plenty of attractions but while in Kenya he likes reconnecting with his home country by visiting amazing Kenyan travel destinations.
This fantastic place located within the Mount Kenya Wildlife Conservancy. The orphanage is home to African lynx, porcupines, forest cats, cheetahs and a couple of llamas all the way from Peru. Amazingly it is also home to the endangered Mountain bongo which are less than a hundred worldwide. The orphanage is also home to the injured, neglected, abused or frightened wild animals where they are taken care off with the goal to release them back into the wild where they belong.
The video above provides more insights on the same.
A Little Bit About Me!
I am a former international student in USA and I am a senior IT consultant in the areas of Oracle EBS Financials and Robotics Process Automation (RPA) here in USA. I am the programs director of Appstec America – A consulting company based in Tampa, Florida, USA.
I've been blessed to have learned a lot in my career as an IT consultant. My life has truly changed, and I've made it my mission to give back and serve others beyond myself. Whether that be helping you to relocate to USA as an international student, train you as an IT consultant, help you start and build your own online business, creating your financial freedom, motivating you to pursue your goals and dreams, to being more productive, to inspiring you to constantly improve yourself.
My mission is to get you to wake up to the unlimited potential within you and achieve what you're truly capable of through my various self-development training programs. On the internet, I openly and passionately share my life experiences and all of the very best concepts, strategies, tools, and resources that I continue to discover that have made a measurable difference to my life, and will do for you as well.
Keep your dream alive and never give up! To learn about my company's amazing programs, please go to;
www.appstecamerica.com or www.successwithbobmwiti.com
Contact me at;
[email protected]
[email protected]
+1 813-573-5619 ext 402
A Memorable Animal Orphanage Tour at the Foothills of Mt Kenya