Unprecedented Well Calculated Move: Ruto Outshine Uhuru and Raila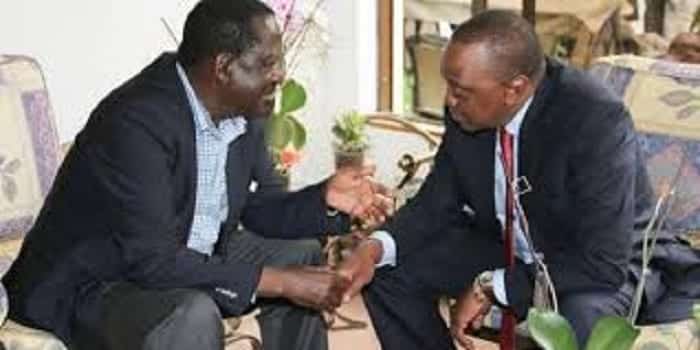 Robert Green, in 48 Laws of Power, advises power brokers to exploit and use their enemies. President William Ruto bought into this ideology and is seemingly outshining his former bosses- Raila Odinga and Uhuru Kenyatta (H.E Rtd).
In a game of political chess, Ruto arguably cut the political muscles of his former boss, Uhuru Kenyatta, after he convinced over 30 Jubilee MPs to decamp to government on Wednesday, February 8.
A day before, he caused an earthquake on former Prime Minister, Raila Odinga's turf, after nine MPs allied to him crossed over.
This unprecedented but well-calculated move to dent Uhuru, Raila's powers, leaves the two handshake brothers facing a political crisis as their numbers dwindle in Parliament.
In Ruto's meeting with Jubilee MPs, he openly dangled a carrot on power-hungry Jubilee MPs when he assured them they were back home. But what was the catch?
"We will be seeking your support on Bills and regulations on the Housing Fund, Water Purchasing Agreements, among others," Ruto revealed his intentions, which definitely, the opposition argues is sinister, meant to boost the head of states efforts to control the bicameral house.
According to political experts, the President has weakened the two statesmen and the opposition by welcoming politicians from Uhuru and Raila's parties.
Kenyans.co.ke spoke to governance analysts to determine if the move by Ruto to poach Orange Democratic Movement (ODM) and Jubilee Party elected leaders exposed the former president.
Professor Herman Manyora speaking exclusively to Kenyans.co.ke, revealed that Uhuru had nothing to worry about even after losing members of his Jubilee Party.
"There is no one in Kenya who can be naïve to the extent of going after Uhuru because they will lose more than they can gain.
"The issues about taxing Kenyatta's family are just empty talk that cannot be put to the test. Taxation is anchored in the law, and in case of default, there are set guidelines," he remarked.
Manyora added that Uhuru did not need protection from anyone as he wasn't at fault.
"Uhuru has not plundered resources, and if anyone decided to persecute him unfairly, that would be akin to inviting chaos to the country," Manyora warned.
Political analyst Nafula Kisiangani added that the former president has nothing to worry about.
"Uhuru should not be worried as long as he plans to do the right thing. If it is paying tax, he should do so like any other Kenyan without politicising the matter. In the unlikely case that he was unfairly treated, Kenya has a sound judicial system," Kisiangani added.
She added that Kenyans should not be looking at the issue of taxation through a political lens.
"The President is doing the right thing by requiring everyone to pay tax without preference. This is the best way for Kenya to stop over-relying on expensive foreign debts and be able to reduce the cost of living in the long term," she remarked.
On why the President was poaching parliamentarians, Nafula remarked that it was a normal move and should not be a cause for alarm. Ruto, she explained, has all right to do everything to minimize opposition, for the stronger, it is, the harder it will be for him to deliver on his agenda," she told Kenyans.co.ke.
Nafula remarked that most politicians pledging their loyalty to the government were making a smart move.
Incentives
On Tuesday, February 7, ODM alleged that MPs allied to Raila were bribed to switch camps. These were Phelix Odiwour – Jalang'o – (Lang'ata), Mark Nyamita (Uriri), Tom Ojienda (Kisumu), Shakeel Shabir (Independent – Kisumu Town East) and Caroli Omondi (Suba South), Elisha Odhiambo (Gem), Gideon Ochanda (Bondo).
ODM's Migori Senator, Eddy Gicheru Oketch, further claimed that his colleagues were offered Ksh50 million, claims that Kenyans.co.ke could not independently verify.
However, Jalang'o, who was one of the MPs who met Ruto, stated that the President offered them a chance to discuss the development agenda for Luo Nyanza.
Sirisia MP, John Waluke, who was part of the Jubilee entourage, was also previously quoted pleading with Ruto to intervene in his Ksh297 million graft case.
Revenge
Raila accused Ruto of being on a revenge mission against Uhuru. The former President is on the record cutting his then-DP's power while the two were in power between 2017 and 2022.
In as much as analysts argued that Uhuru may be left powerless, renowned lawyer, Dunstan Omari argued that the former President still wielded international powers.
"The retired president has a lot of force globally. Raila combined with Uhuru globally they control 80 per cent of the networks. Ruto is a local president," Omari warned.
"Weak people revenge, strong people forgive, intelligent people ignore. Uhuru Kenyatta did you wrong. Truth be told, but to revenge is to be weak. It will destroy you," political scientist, Mutahi Ngunyi added.
By KIOKO NYAMASYO
Source-https://www.kenyans.co.ke/
Unprecedented Well Calculated Move: Ruto Outshine Uhuru and Raila