President William Ruto Fires Corruption Warning Shot at KRA Staff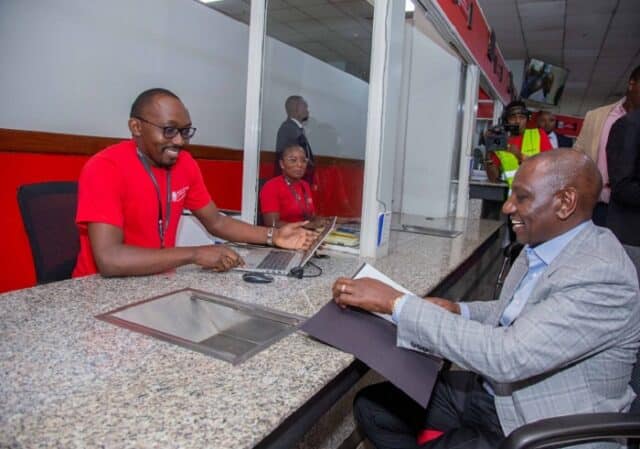 President William Ruto has raised concerns over massive corruption at the Kenya Revenue Authority.
Speaking shortly after filing his returns at Times Tower on Friday, the President said while Kenya's economy has witnessed growth in recent years, the tax collected has nearly remained the same within the same period.
Ruto fired a warning to the staff who were colluding with businesses and organisations in dodging taxes saying their days are numbered.
He said the collection of more revenue has also been hindered by the use of outdated technology.
"The authority continues to maximise collection from existing taxpayers through processes and technologies that belong to a bygone era, including disruptive stoppages of revenue-generating operations, summary actions, time-consuming, laborious and inefficient assessment methods and a flagrant penchant for intimidation through arbitrary prosecution," he said.
" Additionally, collusion, wanton bribe-taking and general corruption continue to pervade the operations of KRA, facilitating tax evasion, massive leakages of potential revenue and inability to meet revenue targets."
The President went on to say that there is a deliberate refusal to upgrade technology that will enhance the efficient collection of revenue.
This, he said, is meant to enable continuous plundering of the country's taxes.
Ruto has asked KRA to urgently undertake serious and effective culture change throughout the organisation and expeditiously adopt and implement the best technologies to facilitate efficient revenue mobilisation.
"This means KRA must stop the tiresome drama of pretending to be fighting with stakeholders over new technology and avoid irritating Kenyans with proposals to spend billions of shillings on irrelevant projects. Kenyans expect no less, deserve no less and are entitled to no less," he said.
He went on to say he will be personally involved in ensuring that Kenyans get their taxes' worth of public services in full and that none, regardless of status, steals or wastes public resources.
"I just want to make the following commitment firmly and clearly: My office shall be responsible for ensuring effectiveness, efficiency, transparency and accountability in the use of public funds."
Source-https://www.nairobileo.co.ke/
President William Ruto Fires Corruption Warning Shot at KRA Staff