Kenyans Stranded Deep In South Sudan Cry For Help
Kenyans Stranded Deep In South Sudan Cry For Help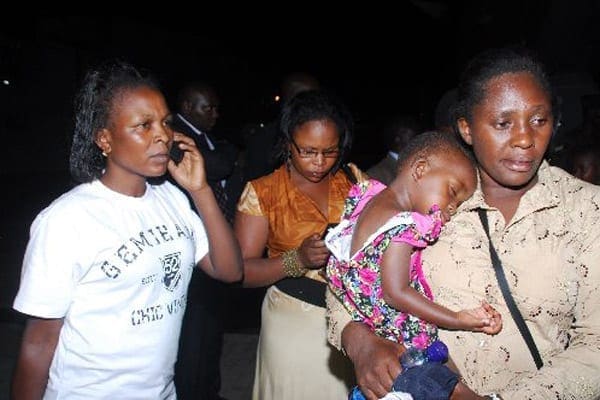 Kenyans stuck in far-flung parts of South Sudan continued to cry for help on Monday as major antagonists to the conflict traded accusations of dishonesty.
Ms Jane Owino told the Nation she has been trapped in a humanitarian camp in Bentiu, Unity State, and the situation was deteriorating.
"We have been here for five days. The UN mission here has been giving protection, but there is no water and food is scarce," she said adding she was in the company of about 200 people majority being Kenyans.
Bentiu, which is about 900 kilometres north of Juba and the South Sudanese government, admitted on Monday that it was no longer controlling Unity State and hence could not guarantee safety of those stranded there.
"Bentiu is not currently in our hands. It is in the hands of a commander who has declared support for Machar," a spokesman for Juba tweeted.
Although the Kenyan government ordered the military to evacuate stranded Kenyans, the mission was mainly limited to Juba and emergency support for those in accessible UN Mission camps.
On Monday, Kenya Airways said it had suspended all flights to and from Juba between December 24 and 31 with passengers who had booked flights within that week will be allowed to change their bookings, re-route to Entebbe or get refunds.
On Sunday, another group of Kenyans claimed they had been trapped at Yirol town after escaping Jonglei via a boat.
"We have been stuck here for five days and we are running out of water. We have been surviving on biscuits and there are no vehicles," Mr Martin Wabweni told the Nation by telephone from Yirol, about 300 kilometres north of Juba.
"Drivers refused to proceed fearing for their safety. Since then, the number has increased. We are about 80 Kenyans but the whole group is about 180 people.
We have been accommodated at Comboni Missionary Centre here, but we are afraid it may get worse," he said.
Mr Stephen Kuol, a spokesman of South Sudan's former Vice President Riek Machar accused President Salva Kiir of not being honest in calling for talks to end the crisis in Africa's youngest nation.
Mr Kuol, a minister in the troubled Jonglei State, on Monday told the Nation that President Kiir was "not serious" because those he should be talking with have either been scared away or put in custody.
"Salva Kiir was just under pressure from the region, South Sudanese themselves and the international community to accept dialogue. It wasn't his initiative and up to now I don't think he is serious," Mr Kuol said.
"There is an agreement that there should be dialogue. What is not clear now is whether President Salva Kiir will release political prisoners.
RELEASE OF POLITICAL PRISONERS
The way forward is this: Salva Kiir must release all political prisoners so that they participate in the dialogue. It should not even be a contest between Riek Machar and Salva Kiir."
The said political prisoners are top politicians in the SPLM who Kiir accused of influencing a mutiny supposedly engineered by Dr Machar but Mr Kiir terms them "rebels" who should be put away.
"Those who may want to take the law into their hands, the long arm of the government will get them," Mr Kiir said last week.
"Those who have killed a person or persons will be taken to court to face the law. It's the right of every South Sudanese to be protected."
South Sudan has been in chaos since this past week when soldiers allied to Dr Machar fought South Sudan's army.
Mr Kiir later announced that it had been a failed coup attempt but still offered to hold talks with his opponent.
Dr Machar on the other hand has demanded that talks be held in a "neutral" venue, preferably in Ethiopia.
South Sudanese troops are readying to assault the rebel-held town of Bor, the president said on Monday, after the evacuation of foreign nationals from the capital of the powder keg eastern Jonglei state.
The army is "now ready to move to Bor," President Salva Kiir told parliament, adding that the counter-attack to wrest back the town after it was captured on Wednesday was delayed until US had airlifted citizens out.
"One of the conditions of Dr Machar is that I have to resign," Mr Kiir said. "This is not new to me."
There are both ethnic and political dimensions to the fighting, as troops loyal to Kiir, a Dinka, battle forces backing Machar, a Nuer.
Kiir accused Machar of mobilising a civil war-era militia force of ethnic Nuer gunmen called the "White Army", who earned a grim reputation for brutal raids on rival communities during the 1983-2005 conflict.
Kiir repeated his offer to hold talks with Machar, adding that a delegation of  foreign ministers from neighbouring nations who visited last week — under the auspices of the regional bloc, the Inter-Governmental Authority on Development (IGAD) — had offered to mediate.
"IGAD has offered to mediate… but I told them that Dr. Riek has to come to the table without any precondition," Kiir said.
IGAD members played key roles in pushing forward the 2005 deal that ended Sudan's two-decades long civil war with the south.
"This Christmas will not be like the previous ones because we will be mourning our dear lost ones in this senseless war," Kiir added.
 -nation.co.ke
Kenyans Stranded Deep In South Sudan Cry For Help