'ESTHER ARUNGA MADE ME GIVE UP ON GOD'
'ESTHER ARUNGA MADE ME GIVE UP ON GOD'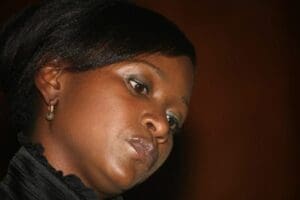 Events organiser Wilson Malaba is not new to showbiz. He is best remembered as the ex-boyfriend of former TV anchor, Esther Arunga. Wilson and Esther broke up two months before their planned wedding in April 2010. He tells CATE MUKEI how he got over Esther and found love again.
How did you meet Esther?
We met through a social forum dubbed CINEMA (Christians In Entertainment and Media) that brought together Christians in showbiz. This is the same forum that chose Joseph Hellon as a moderator.
We thought he could relate with us since he played in church and also entertained in clubs. We would meet in various places and share the word of God. The forum provided a good balance between spirituality and Christianity.
Did you start dating immediately?
No. We were friends first, for two years. Besides, I was just coming out of another relationship that did not work. We started dating in October 2009 after talking to my then pastor, Hellon, who told me that we were spiritually connected.
At that point, I thought why not. We got engaged after two months of dating. Our engagement lasted four months.
Why the rushed engagement?
My previous relationships weren't very good and I have had my fair share of girls I shouldn't have dated in the first place.
I was not good with long-term relationships. But when I met Esther, I remember telling Hellon and a few other people that I had not found the right person.
How was your relationship in the few months you were together?
It was awkward. I found myself texting and calling most of the time. I remember telling my friend that there was an emotional disconnect between us.
She met my mother at some point and they got along very well. My mother liked her, but she claimed there was something wrong with her spirit, but could not exactly point a finger to it.
So what went wrong?
Quincy Timberlake! The man who claimed to be connected to Obama and Tony Blair. Esther had told me earlier that Quincy was pestering her. When I finally met him, I was disappointed.
I expected a lot more from him. His grooming was pathetic. He said that he had a hotel in the Bahamas and that he would give us complimentary accommodation for our honeymoon. Esther and I both agreed that he was a fake. Our close friends did not fall for it either.
Was that the end of you and Esther?
It was the beginning. One evening, I got a text from the pastor telling me I was no longer part of the church because I was a freemason. That did not really bother me, but I knew I had to get my fiancée out of that house. I called her and she promised to call me back.
She did, but I didn't want to burden her with my problems then. Esther then sent me a text saying she couldn't wait to become Mrs Malaba!
That night, I had a dream that I would be separated from Esther. The following morning when I tried calling her, she wasn't picking my calls. Later, she sent a text accusing me of adultery and asked me to stop calling her.