Kenya's military kills 49 Al Shabaab militants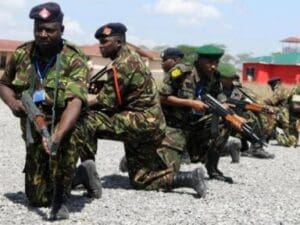 Nairobi: Kenyan soldiers have killed 49 Al Shabaab militants, including five commanders, in intensified airstrikes in southern Somalia, an official said on Thursday.
David Obonyo, Kenya Defence Forces (KDF) spokesman, told Xinhua that the militants were killed Tuesday when the country's troops under African Union Mission in Somalia (AMISOM) carried out an airstrike on two of the insurgents' camps in the Somalian cities of Hargeisayere and Minyonta in Jilib.
"The airstrike took place Tuesday but we could not do damage assessments due to bad weather until late Wednesday when we established that our troops killed 49 Al Shabaab fighters, including five commanders, while 27 others were injured," he said.
Obonyo said two vehicles were also destroyed during the airstrikes that started last Saturday after the militants ambushed a Nairobi-bound commuter bus and massacred 28 non-Muslims in Mandera, northern Kenya.
The bus attack follows a string of bombings and killings in the border town in recent months.
Al Shabaab militants later claimed responsibility for the massacre which, they said, was in retaliation for the mistreatment of Muslims and raids on mosques in the coastal city of Mombasa.
Obonyo said the militants have been using their tactical operations and supply chain command base in Jilib to launch attacks in Mandera.
"The two camps are important Al Shabaab logistics and operational bases which have been key transit points for militia movement to other areas," Obonyo said.
"We believe the militants have been using these transit routes for their operational movement and launch of attacks in Mandera. Normal patrols have been intensified across the region."
The East African nation continues to suffer from attacks as terrorists change tack to beat heightened security and carry on with their heinous acts.
Recently, numerous attacks involving shootings, grenades and other explosive devices took place mostly in northeastern Kenya and along the country's coast.
-indileak.com