M-Pesa taps into diaspora cash-90 countries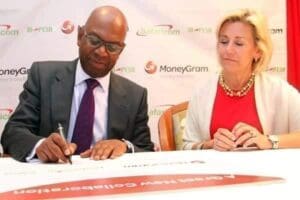 M-Pesa customers can now receive cash directly to their phones from more than 90 countries after Safaricom signed a deal with an American money transfer firm.
The partnership, signed on Wednesday by Safaricom chief executive Bob Collymore and MoneyGram global chairperson and CEO Pamela Patsley, will benefit Kenyans who receive money from their relatives and friends living abroad by cutting the bureaucracy and distance travelled to access the remittances.
It is estimated that more than Sh120 billion is sent annually by Kenyans in the diaspora, most of which is financial support for people in rural areas.
The service now makes it possible for Kenyans to receive money directly into their mobile phones instead of having to queue in banking halls or other financial institutions.
It will be available to MoneyGram users either in countries where the company has physical outlets or on-line.
"The M-Pesa customer will receive an SMS in real time confirming that the funds have arrived and will be able to collect the cash from an agent," Mr Collymore said.
M-Pesa has about 12.8 million active customers in Kenya.
The huge amounts of money that the community abroad sends back home every month has caught the attention of many investors, who are now coming with up innovative products as they target a piece of the cake.
Central Bank of Kenya governor Njuguna Ndung'u said on Wednesday that the remittances are projected to increase further in the coming years.
Data from CBK shows that remittances in the eight months to August grew by 11 per cent to Sh83 billion. Out of this, M-Pesa handled a total of Sh3.39 billion, about 4 per cent, ranking at position 11.
President Kenyatta reportedly brokered the Safaricom deal during his meeting with Ms Patsley at the US-Africa Summit held in Washington, US, in August.
The partnership is in line with Safaricom's growth strategy, which is to focus more on non-voice services such as mobile money and data.
With the new deal, Safaricom and MoneyGram are now eyeing a bigger part of the diaspora remittance business, which has, for long, been dominated by Western Union and commercial banks.
Equity Bank, which is hoping to reduce Safaricom's dominance in the mobile money market through its new mobile outfit Equitel, has also taken a keen interest in the diaspora remittances.
-nation.co.ke