Bill seeks to have Kenyan prisoners abroad serve sentences in Kenya

Bill seeks to have Kenyan prisoners abroad serve sentences in Kenya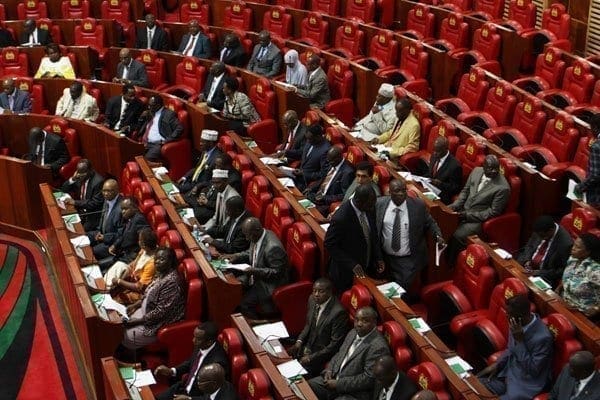 Kenyans languishing in foreign prisons may be brought back home to serve their sentences, if MPs pass a Bill currently before the National Assembly.
The Transfer of Prisoners Bill 2014 proposes laws that will make it possible for Kenyan prisoners in foreign jails to be transferred to local prisons.
Similarly, the Bill also proposes that foreigners serving prison sentences in Kenya can be transferred to their countries to complete their sentences.
But for this to happen, Kenya will have to sign a Transfer of Prisoners Agreement with the country with which it seeks to exchange prisoners.
Hundreds of Kenyans are currently locked up in foreign prisons for offences ranging from murder, drug trafficking to fraud and other petty crimes.
The Bill is a result of negotiations between Kenya and several states to sign prisoner exchange agreements, according to Attorney-General Githu Muigai whose office has drafted the Bill.
"We have received requests from Iran, Germany and Zambia. There is also a previous request from our former ambassador to China, Mr Julius Sunkuli, pleading the case of many Kenyans serving terms in Chinese jails for various offences," says Prof Muigai.
According to Mr Sunkuli, there are dozens of Kenyans serving sentences ranging from five years to life imprisonment and death in jails in mainland China and Hong Kong.
"Many are convicted drug traffickers as well as other petty offenders serving shorter sentences.
"Many of them want to be transferred to Kenyan prisons to be closer to their loved ones who cannot afford to visit them in Chinese jails. They also suffer from racial abuse, lack of legal representation and communication barriers," Mr Sunkuli said.
China has been exerting pressure on the government to transfer its 70 nationals being held at the Industrial Area remand prison on charges relating to cyber-crime.
The request by the Iranian government is in relation to its two nationals, Seyyed Mansour Mousavi and Ahmad Abolfathi, who are serving life imprisonment in Kenyan prisons for being in possession of bomb-making material.
This month, Iranian media quoted Hossein Amir-Abdollahian, the country' deputy foreign minister for Arab and African Affairs, assuring the families of the two prisoners that they would be set free soon.
The Zambian matter relates to the case of a seriously ill Zambian in a local jail. There is also the case of an elderly German in jail.
According to the Bill, a prisoner may be transferred to a Kenyan prison following a request by the Kenyan government to the country where the prisoner is serving a jail term.
The request may also be made by the prisoner or their representative.
-nation.co.ke
Bill seeks to have Kenyan prisoners abroad serve sentences in Kenya