Kenyans in diaspora offer Uhuru solutions to end graft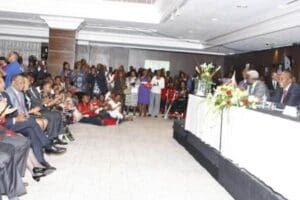 Kenyans in the diaspora have expressed concern at "the frequency, kind and type of corruption scandals that are reported in the country every day".
In a letter to President Uhuru Kenyatta, the Kenya Diaspora Alliance said they have the solutions and willingness to "selflessly fight side by side" to help defeat this vice.
"KDA Members, spread across the globe, and experts in various domains, have concrete proposals as to how corruption can be fought and defeated," said a statement signed by Angaluki Muaka and Peter Wanyonyi.
"As Diaspora leaders, we ask for appointment with Your Excellency (like you time and again accord other segments of the Kenyan community); we shall be glad to share our proposals in a little more detail."
They asked the President to steps of "depoliticizing and detribalizing the national crisis that corruption has become" in order to avoid a repeat of 2007 chaos.
"Contrary to what you may see from cheer-leaders around the Presidency, anger is fast brewing among Kenyans because of corruption and insecurity; and the anger is potent."
The KDA said graft was denying the public quality services as well as dragging the country's reputation down.
"Corruption scares off any kind of investment, including foreign direct investment and has led to a spike in ransom kidnappings, illicit rent-seeking, and armed hijackings. Even barricaded middle-class Kenyans are waylaid daily to or from work."
"Graft is not just limited to the actual cash fraudulently stolen from public coffers, such as buying a juakali wheelbarrow at Sh100,000, a bar of soap at Sh37,500 or enabling terrorists to cross the border and cause harm."
They appealed to the President to restructure the government and stem runaway corruption.
– the-star.co.ke