Alfred Mutua now pledges allegiance to Uhuru Kenyatta
Alfred Mutua now pledges allegiance to Uhuru Kenyatta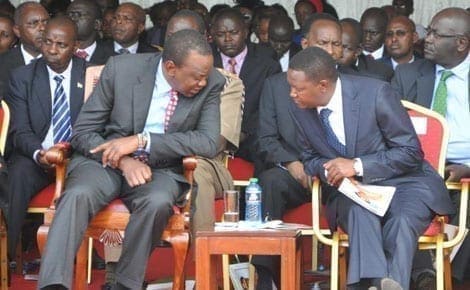 Machakos Governor Alfred Mutua pledged to support Uhuru Kenyatta in the upcoming general election-He will leave the CORD coalition for Jubilee 'for the sake of Ukambani people'.
Machakos Governor Alfred Mutua on Tuesday, April 26 announced that he would support the Jubilee Alliance Party in the upcoming 2017 general election.
Despite having earlier sworn that he would not support neither Jubilee nor Raila Odinga's CORD at a recent event, he changed tune and defended his move saying that it was for the sake of development of the Ukambani people.
"Ukambani is ready to support Jubilee to help them win. We are not here for government positions or money, or envelopes and briefcases, we are here on behalf of the people because we do not want to be leaders of the poor," said Mutua on Tuesday, April 26 as quoted on Citizen TV.
His announcement comes in the wake of his continued rivalry with CORD co-principal Kalonzo Musyoka over who would be the kingpin among the Kamba people.
Mutua was elected on a Wiper Party ticket but his fallout with Kalonzo who is also the party's leader saw him launch his own party, Maendeleo Chap Chap.
Some Wiper members called for his expulsion from Wiper but he defended himself saying Maendeleo was only a movement and not a political party that warranted his removal from Wiper, and in essence, removal from his gubernatorial seat.
Earlier this week, thousands of  Ukambani leaders met President Uhuru Kenyatta at State House which raised speculation that Jubilee was taking over the CORD stronghold in preparation for the election.
According to Citizen, Uhuru was working to increase his popularity in the region in which Tuesday's meeting with the leaders saw Kamba land receive the go-ahead for development projects funded by the government.
The government has invested KSh 144 billion in water, health and road projects.
The breakdown of the roads projects are as follows:
– Dualling of the Machakos – Athi River Turn off road in Machakos County at a cost of KSh 8 billion
– Machakos-Mombasa road at a cost of KSh  1.2 billion and Machakos-Lukenya-Athi River roads at KSh 600 million
– Daystar-Lukenya road at a cost of KSh 600 million
– Mathathani-Kathiani-Kavoleni road at a cost Ksh 1.3 billion
– Mumbuni-Kathiani-Thwake River road at a cost of KSh 732 million
– Mathathani-Kaseve and Kiangala-Riuni roads at a cost of KSh 800 million each
– KSh 1.2 billion for the Sultan Hamud-Kasikeu-Wautu-Kiambeke-Kikoko roads
– Ksh 500 million for the construction of Makueni town roads
– KSh 1 billion Kasikeu-Upete road and KSh 800 million Kautadini-Mavia-Kimakiu-Salama Bridge
– KSh 800 million Tawa-Nguluni-Itangini and KSh 800 million for teh Thwake Bridge
– Kamuhogo Bridge at a cost of KSh 500 million
Ksh 122 billion has been reserved for water and dam projects in the Lower Eastern region.
–nation.co.ke