VIDEO: Nairobi flooded, cars swept by raging waters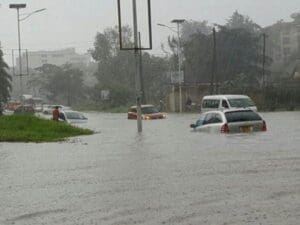 VIDEO: Nairobi flooded, cars swept by raging waters
Motorists and commuters were stuck in traffic on Thursday evening after heavy rains hit Nairobi.
Several roads including Kenyatta Avenue, and Ojijo Road in Westlands were flooded, forcing pedestrians to wade through to get to different parts of town.
"Motorists using Thika Superhighway are advised to use alternative routes as the section at Pangani flyover is flooded," Kenya Red Cross said via Twitter.
Heavy rains caused a 16-hour traffic snarl-up on Mombasa Road on Monday. Police said the downpour lasted 46 hours.
The traffic jam stretched five kilometers from Nairobi town to Maanzoni Lodge in Athi River town. It lasted from 3pm on Sunday to 8am on Monday.
The Met department warned of heavy rains from April to June. It said Coast, Western, Central and Rift Valley regions would be affected.
Samuel Mwangi from the department said Kwale, Mombasa, Kilifi and Lamu will experience heavy downpours while Makueni, Isiolo, Machakos and Kitui will only receive light rains.
Floodwater at Museum HIll following a heavy downpour in Nairobi, April 28, 2016. Photo/CYNTHIA MISIKI
Floodwater at Museum HIll following a heavy downpour in Nairobi, April 28, 2016. Photo/CYNTHIA MISIKI
Floodwater on Kenyatta Avenue following a heavy downpour in Nairobi, April 28, 2016. Photo/CYNTHIA MISIKI
Floodwater on Kenyatta Avenue following a heavy downpour in Nairobi, April 28, 2016. Photo/CYNTHIA MISIKI
A fence that collapsed following a heavy downpour in Nairobi, April 28, 2016. Photo/COURTESY
Vehicles submerged in floodwater following a heavy downpour in Nairobi, April 28, 2016. Photo/CYNTHIA MISIKI