Akasha sons arrive in New York to face drug trafficking charges
Akasha sons arrive in New York to face drug trafficking charges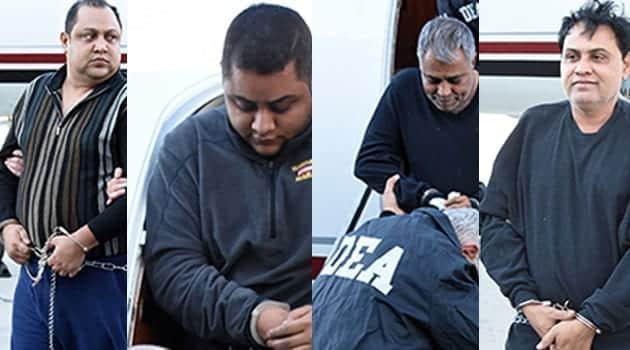 Two sons of slain drug baron Ibrahim Akasha and two foreigners arrested in Kenya at the weekend have arrived in New York where they are due to face drug-related charges.
Baktash Akasha aged 40, his brother Ibrahim, 28, Gulam Hussein and Vijaygiri Goswami were arrested in Mombasa for conspiracy to import heroin and methamphetamine into the United States.
"As alleged, the four defendants ran a Kenyan drug trafficking organization with global ambitions. For their alleged distribution of literally tons of narcotics – heroin and methamphetamine – around the globe, including to America, they will now face justice in a New York federal court," Manhattan US Attorney Preet Bharara said.
DEA Special Operations Division Special Agent in Charge Raymond Donovan said the DEA pursues the most dangerous global drug traffickers who pose a direct threat to safety and stability around the world.
"We are relentlessly pursuing these criminal groups and their facilitators at every level with our law enforcement partners and we value and appreciate the work of our Kenyan counterparts. It is critical that we attack these dangerous networks before they can do even more damage worldwide and threaten innocent lives."
US authorities say Baktash is the leader of an organised crime family in Kenya responsible for the production and distribution of narcotics within Kenya and throughout Africa.
"Moreover, the Akasha Organisation's distribution network extends beyond the African continent to include the distribution of narcotics for importation into the United States."
Goswami is accused of managing the Akasha Organization's drug business, including the production and distribution of methamphetamine and the procurement and distribution of heroin.
Hussein – a resident of Pakistan and a long-time associate of Goswami – heads a transportation network that distributes massive quantities of narcotics throughout the Middle East and Africa, and has acknowledged responsibility for transporting tons of kilograms of heroin by sea.
"Over the course of several months, during telephone calls and meetings in Nairobi and Mombasa, Kenya, the defendants agreed to supply, and in fact did supply, multi-kilogram quantities of heroin and methamphetamine to individuals they believed to be representatives of a South American drug-trafficking organization, but who were in fact confidential sources working at the direction and under the supervision of the DEA."
Baktash, Ibrahim and Goswami, 55, negotiated on behalf of the Akasha Organisation to procure and distribute hundreds of kilograms of heroin from suppliers in the Afghanistan/Pakistan region and to produce and distribute hundreds of kilograms of methamphetamine, which they understood would ultimately be imported into the United States.
At the same time, Hussein, 61, agreed to transport heroin from the Akasha Organisation's supplier in the Afghanistan/Pakistan region to East Africa.
The Akasha Organisation provided a total of 99 kilograms of heroin and two kilograms of methamphetamine to the confidential sources, and agreed to provide hundreds of kilograms more of each.
Lawyer Cliff Ombeta who acted as legal counsel for the Akasha's before their deportation decried the manner in which the suspects were handled citing a court order barring security officials from deporting them.