Ruto is "toughest, baddest and sharpest" politician in Rift Valley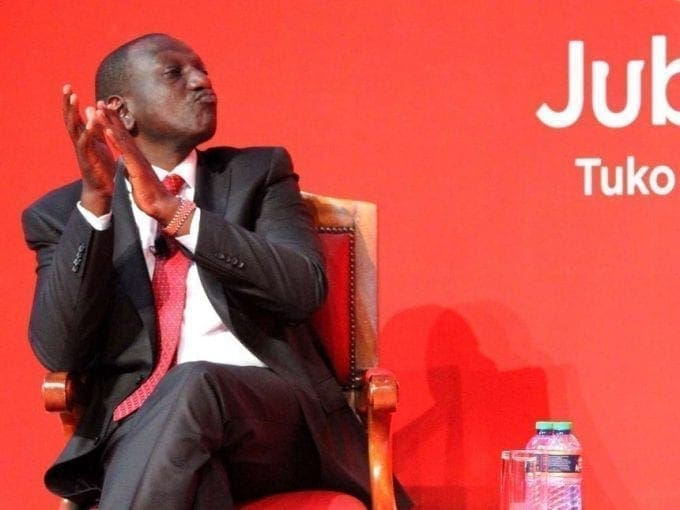 Deputy President William Ruto has been termed the "toughest, baddest and sharpest" politician in Rift Valley whose supremacy is difficult to dislodge.
This is according to Dock Workers Union secretary general Simon Sang, who said attacks on the DP are hot air.
"Ruto will easily succeed his boss President Uhuru Kenyatta come 2022," he said on Wednesday, adding his detractors will ultimately join his course.
Ruto is facing backlash from his backyard; some of his critics want to be president in 2022 while others do not agree with his ideologies.
Among them are Governors Issac Rutto (Bomet) and Jackson Mandago (Uasin Gishu), Baringo Senator Gedion Moi and MPs Oscar Sudi (Kapseret) and Alfred Keter (Nandi Hills).
Ruto has said several times that former President Daniel Moi remains Rift Valley kingpin as he did not hand the mantle over to anyone.
But Sang said: "Times change. Moi's time went with the wind. Ruto now calls the shots. He is charting the region's political path and it is only beneficial if we support him."
Leaders from the DP's turf are in the final touches of developing The Greater Rift Valley Development Forum, a brain child of political elder Wilson Leitich.
The forum has been touted as one of the single largest voting bloc in Kenya because it will bring on board the vast Kalenjin and Kikuyu communities.
Sang said the forum will greatly boost Ruto's chances of sailing through to State House. The communities greatly contributed to Jubilee's 2013 win.
"This forum's objective is to bring together the three major communities in Rift Valley to forge a united front," he said during an interview with The Star.
Just like Sang, MPs David Pkosing (Pokot South), Elisha Busienei (Turbo) and Mathias Robi (Kuria West) have said Rutto and Senator Gideon are trying to mislead the Rift Valley.
Sang said the DP's critics will not succeed in their "biggest mission" to succeed Uhuru "because he is connected with voters, unlike his rivals".
Gideon has already announced that he will vie for president in the next five years.
"Other than Rutto and Gideon, all other foes will come back home and support the DP in his presidential quest," Sang said.
"On the other hand, the community will not allow divisive politics of 'if you vote independents, we will not support Ruto up there'."
He accused Keter and Sudi of opposing independents while they supported the formation of the new faction as a fall-back plan. The two threatened to vote for the Opposition if Ruto supports independents.
"RUTTO, GIDEON UNLIKELY TO WIN IN 2017"
Sang, a man with vast networks in the Rift Valley, said chances of Chama Cha Mashinani boss Rutto and Kanu chairman Gideon of retaining their seats are slim.
"Jubilee has fielded strong candidates against them and cannot be wished away," he stated.
Rutto will face National Assembly Deputy Speaker Joyce Laboso while the Senator will clash with Jubilee's Simon Chelugui who is said to have the support of the DP. Chelugui shelved his governor ambitions.
"Gideon is thriving on retired President Moi's brand name. He is not a force to reckon with in the politics of the valley," the Dock boss said.
Sang said he is confident Mt Kenya will support Ruto's bid in 2022 but is uncertain they will reciprocate the same five years later.
There has been unrest after Kiambu Governor William Kabogo said the DP should not be so confident about getting Central's votes. But Sang said the region will support Ruto for political and economic reasons.
"The Greater Rift Valley Development Forum will root for common social and economic interests to be shared collectively between communities in the two regions," he said.
In December last year at a church function on Nairobi's Zimmerman Estate, Ruto said his chance of becoming President in 2022 is a matter that should not distract Jubilee supporters from this year's objective of winning the election by a landslide.
He said 2022 will "sort itself out when the time comes".
"It is not you who owes me a debt. It is all of us Kenyans who owe each other the debt of friendship, unity and brotherhood. Let's concentrate on winning the 2017 election. Leave 2022 to God to decide," he said.
"PACKED RALLIES DON'T MEAN WIN FOR NASA"
Sang noted the two regions have more than five million votes and that they will only benefit if they unite.
The SG said even if Mt Kenya fields its own candidate for the top seat, the candidate "will not eat much on the vote bloc because the rest will be focusing on the unity of the two communities".
Kalenjins and Kikuyus had been rivals but ICC cases united them. The crimes against humanity cases against Uhuru and Ruto collapsed for lack of evidence.
On Jubilee's re-election chances, Sang said the system is already ahead with about 800,000 votes and is seriously eating up votes from swing counties and those led by politicians in the Opposition.
"Jubilee will have more votes in Ukambani because Kambas are very careful. They vote for political security and development. Kambas' target is to be in government," he said.
The secretary general said NASA is locked out of Rift Valley and will not get substantial votes. He said the fact that some of the Opposition rallies in the region are crammed does not assure they will win.
Sang blamed Central Organisation Trade Union and Trade Union Congress of Kenya for strained relations between workers and the government.
He said the two unions have not practically proven their value to the labour movement and are advancing "adversarial" trade unionism.
The official announced he is working on a strategy that will bring workers closer to the government for their benefit.
He successfully negotiated with the government in 2016, on behalf of KPA employees, for the consideration of a new Competence Assessment Scheme. Ruto approved it.
Source link-the-star.co.ke