Why Raila's men are uneasy with Miguna's moves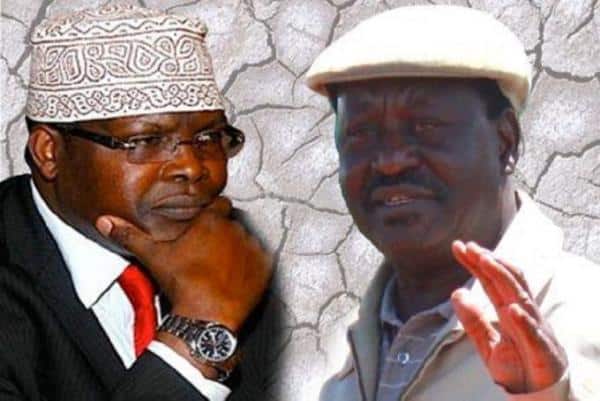 Plotting to succeed Opposition chief Raila Odinga has begun to unsettle NASA as some members fear the 73-year-old warhorse may not be trotting out to pasture just yet.
And aspirants to the NASA mantle are unnerved by Miguna Miguna's rising star, hoping that it's only a shooting star, and soon extinguished.
From the three NASA principals to Mombasa Governor Hassan Joho, there's jostling for Raila's base in Nyanza where leaders are strategically positioning themselves.
Intrigues and back-stabbing reached a crescendo when Raila's controversial swearing-in as People's President on January 30 was given a wide berth by his nominal brothers in arms — Wiper's Kalonzo Musyoka, ANC's Musalia Mudavadi and Ford Kenya's Moses Wetang'ula.
Joho, the ODM deputy leader, didn't shy away.
He was prominent and many Mombasa young people want him to elbow Kalonzo, Mudavadi and Wetang'ula out of the way and become Raila's deputy.
Siaya Senator James Orengo, a key confidant and the legal brains in Raila's inner circle, is often seen as Raila's second-in-command in Luo Nyanza and his heir-apparent.
In Nyanza and countrywide, however, flamboyant, brash lawyer Miguna Miguna has been thrust into the spotlight following his fierce defiance of Jubilee and certifying of Raila's oath-taking.
He has electrified the base. Police broke into his house, held him for five days despite court orders and finally deported him to Canada.
The self-proclaimed General of the National Resistance Movement is vociferous in Toronto, has opened diaspora resistance offices and says he'll be back.
Miguna's tribulations and ruthless deportation endeared him to NASA supporters who forget that he once brutally turned on Raila.
Many people find him obnoxious, however, his brilliance, eloquence and fighting spirit may be just what NASA needs at this juncture.
Attorney General Githu Muigai said those who organised and took part in the swearing-in would be charged with treason, punishable by death.
Bring it on, Miguna said.
Signals that Miguna's star was rising were evident on Tuesday when protests erupted in Kisumu, Migori and Homa Bay after police refused to release him.
Three people were reported shot dead in Kisumu. There were protests in Kibera on Friday last week when he was arrested.
"It's safe to say the Uhuru [Kenyatta] regime's reckless and unlawful persecution of legitimate political opponents has promoted General Miguna Miguna to an even higher position," Raila's adviser Salim Lone said.
"The ultimate injustice of deportation without trial when he was under official court protection instantly catapulted Miguna's international profile, with media awaiting him at Amsterdam airport, where his interview with BBC went viral."
On Wednesday, Lone announced NRM will open offices in Toronto, as well as Miguna's own office of Diaspora NRM Coordination. The Kenyan government brands NRM a criminal organisation.
Miguna's contribution in the last few months has been significant.
"Without Miguna's involvement, January 30 could have been a charade. There are daring moves you can only make with guys like Miguna around you. Jakom likes his bravery," a close Raila ally said.
After his arrest, there was speculation some MPs were not enthusiastic about supporting him because they saw Miguna as a threat.
ODM director of strategy Wafula Buke openly rebuked reluctant legislators, saying, "Miguna has been the best spanner in our toolbox in recent times.
"We need him more than so many MPs …MPs, Stop it. Miguna is ours," Buke, a former political detainee, protested on Facebook.
Miguna had been written off after his stinging 600-page political memoir in 2012 — Peeling Back the Mask: A Quest for Justice in Kenya — tore into the character of Prime Minister Raila Odinga.
His effigy was burnt in his Nyando backyard, followed by an attack in Mombasa as 2013 polls approached.
Political analyst Dismas Mokua says Miguna's political profile has been elevated but it will be challenging to sustain it.
"He has grown serious political capital but not to the level of inheriting Raila's base…If he wants to run for Parliament, that may be a walk in the park in an ODM area. Actually, the MP for Nyando should be very worried," Mokua said.
Ten days after the swearing-in drama, the blame game and manoeuvring persists as each camp focusses on its 2022 game plan.
Following the backlash that followed their absence from the inauguration — they were branded traitors by many people — some Mudavadi and Kalonzo allies say Raila used the swearing-in ceremony to re-brand himself.
Speaking on Citizen TV on Thursday night, ANC secretary general Barack Muluka claimed Mudavadi, Kalonzo and Wetang'ula were kept in the dark about the inauguration plans.
Kalonzo was to be sworn in as People's Deputy President. He now says the plan was to stagger the oath-taking.
They were in the dark about contents of the presidential and deputy presidential oath, the programme of the day as well as Raila's speech, Muluka said.
"We do not know what exactly transpired on Tuesday morning when the three principals awaited Raila Amolo Odinga and who did call them when they were assembled because they were supposed to see the oath. They had not seen it," Muluka said, shifting the blame to Raila's camp.
ODM leaders insist the three leaders openly threw Raila under the bus, squandering their own 2022 chances.
There has been an intense push for Raila to chart a new political path.
"The country was expectant, but they still chickened out. No event in NASA's history has attracted local and international attention of that magnitude. What other events could they still be waiting for? I still maintain the Rt Hon Raila Odinga should cast his political net wider to catch new allies," Nyando MP Jared Okelo told the Star.
Next Friday, all elected NASA leaders are to hold a major meeting that Kalonzo says will put their "house in order".
"We will meet as the NASA family to discuss some of the small things that spilt out during the moment of anger," Wiper chairman Kivutha Kibwana said, referring to January 30 and its fallout.
Kibwana, a key Kalonzo ally, insisted NASA affiliates owe Kalonzo their support in 2022, based on the agreement signed before last year's General Election.
At the Coast, Joho is under pressure to eclipse Kalonzo, Mudavadi and Wetang'ula, especially after they skipped Raila's big day.
In powerful political symbolism just a day after Raila was sworn in, the youth took to the streets of Mombasa, pushing for Joho to be sworn in as Raila's deputy.
Pressure mounts as other Coast opposition figures such as Kilifi Governor Amazon King plan to launch a political party to catapult the region into national leadership and make it a force to reckon with. Simultaneously, there have been calls for secession.
Why Raila's men are uneasy with Miguna's moves