Baraka Obama Visit Expected To Boost Tourism At The Coast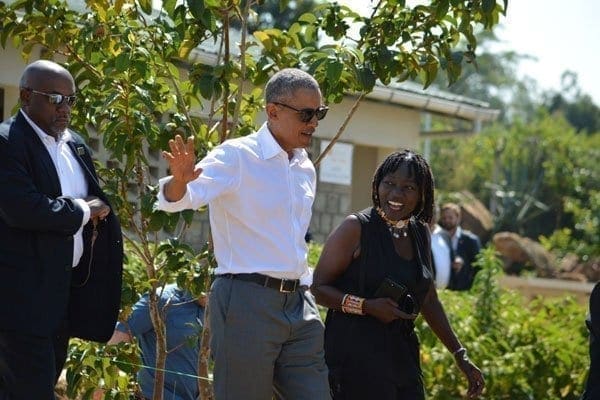 Former US President Barack Obama's visit to Kenya will boost tourism, hoteliers and investors in the sector say.
However, the industry players at the Coast said dividends of the former US leader's visit will fully be realised in 2019.
Mr Bobby Kamani, the managing director of the Diani Reef Beach Resort and Spa, said the visits by Pope Francis and President Obama in 2015 greatly boosted the tourism industry.
Mr Kamani said the country started witnessing the effects of the two leaders' visits a year later, when tourist arrivals from abroad started increasing.
POSITIVE VARIANCE
"The industry should continue to see an increased interest in Kenya from the international markets similar to the outcome of the 2015 visits, by seeing a positive variance in arrivals into the country in 2019," he said.
Mr Kamani said hotels will start cashing in on the thriving domestic tourism market from August, the beginning of the high season at the coast.
On his part, the Kenya Association of Hotelkeepers and Caterers Coast branch executive officer, Sam Ikwaye, said a good number of tourists have started arriving as the properties reopen for the high season.
"Mr Obama's visit raises the profile of our country. When we get prominent people visiting our destination, we should take advantage of it. Now that we are soon going to have direct flights to the US, we can use our profile to market the country," he said.
Mr Ikwaye said a number of hotels had been closed in Malindi, Diani and Watamu — due to the low season — but have now reopened.
HIGH POLITICAL TEMPERATURES
"This is the high season and we are expecting a large number of visitors. Last year, the high political temperatures in the country negatively affected the tourism industry. However, with the current peaceful atmosphere and the extensive marketing, we are foreseeing a fruitful season," Mr Ikwaye said.
At the same, Mr Kamani called on the players to continue nurturing domestic tourism.
"The increasing consumerism among Kenya's growing middle class, coupled with the appreciation of travel as a rejuvenating and educational experience, are among the key factors which are contributing to the rise in domestic tourism," says Mr Kamani.
He added that we need a functioning regulatory framework to help in the provision of accurate and relevant information to promote local tourism.
"For now, Kenya Tourism Board unfortunately has to rely on hotel bed occupancy records alone to determine domestic tourism growth," Mr Kamani said.
-nation.co.ke