Hilarious reactions after Ndii 'tackles' netizen-An idle man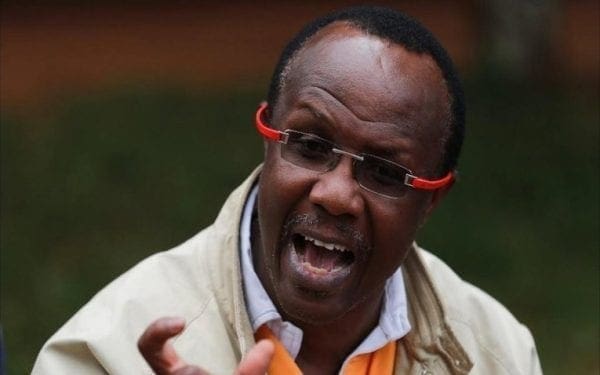 Economist David Ndii on Thursday engaged in a fierce exchange of words with a netizen after he posted several links to articles that highlighted effects of huge national debt.
Ndii mentioned how Pakistan's financial crisis had put China's belt and road on the spot as well as an article on how China got Sri Lanka to 'cough up a port image.'​
The economist seemed to hint on how Kenya's growing debt would affect the nation in years to come and although some agreed with him, one Lenkois labeled Ndii an idle man.
"Most idle ninja i know unajuaanga aje hizi zote?" he asked.
The NASA strategist responded by saying he had done his homework well and his findings were a result of research.
"Its called research," he stated.
Lenkois was not done yet as he attacked Ndii saying: "Wewe inaonekana unaeza niambia ntakula nini sapa from the so called Research huku mtaaani we call it KIHEREHERE."
The economist had had enough and wrote: "That's why you are in mtaani and I am off to play golf."
This thread attracted various comments from netizens, with some condemning him for looking down upon the poor while others lauded his prowess in matters in finance.
most idle ninja i know unajuaanga aje hizi zote https://t.co/X1842dkam7— LENKOIS (@MtuPombe) July 26, 2018
Thats why you are in mtaani and I am off to play golf.— David Ndii (@DavidNdii) July 26, 2018
Hahaha, hapa Dr. Ndii amemaliza huyu mjamaa @Nyasirwa @hkatams@Prof_Omondi @OLeDenno @desbarongo @mandelakemunto @mercydollar9@benjabali @FredAsira— Jack Letangule (@JLetangule) July 26, 2018
Isn't it an irony that those who shout the loudest claiming to represent the poor are the same ones who ridicule the poor for being poor? Makes you wonder, who are they fighting for? Is it the poor? You can only hide your true character & intentions so far. Truth will out, always— Nahashon Kimemia (@nahashon87) July 26, 2018
trolls have become the poor?— David Ndii (@DavidNdii) July 26, 2018
Buda, okota L and move on srowry. They is no way u can recover from that pedigree ki triple H style from Ndii. Kubali yaishe. ????????— ????????Agent wa Özil???????? (@noelweks_) July 26, 2018
Huyu mjamaa amepigwa ile tombstone ya Undertaker….— Cpt.Matt Sparrow (@mart_hew) July 26, 2018
David amezaba mtu kofi ya maskio hadi akaskia NDIIIIIIIIIIIIIIIIIIIII— Techera Mwinami (@techeramwinami) July 26, 2018