MPs want to be treated as 'royals' to perform their duty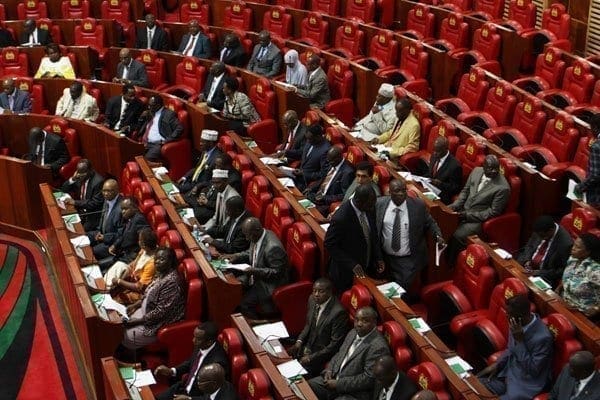 Members of Parliament are demanding to be pampered as they discharge their legislative duties.
In a report tabled by Nyaribari Masaba MP Ezekiel Machogu, it is recommended that the creature comforts of the legislators be elevated to that of 'VVIP' as befits their status.
Some of the suggestions include having the sergeant-at-arms restrict visits by their electorate, access to a lounge that will be out of bounds to outsiders, and unrestricted Internet usage.
More perks include 24-hour VIP security, well-furnished offices, outsourced 5-star catering, a modern gym and massage parlour among others.
The lawmakers then turn their attention to money matters where they want their Sh20 million mortgage increased as well as weekly updates on their car mileage and plenary and committee sitting allowances.
And to 'ease' their transport woes, they have requested that the Sh5 million car grant be increased to Sh7 million.
They have also given their insurer, Liaison Insurance, six months to 'improve its services' or have its two-year contract terminated.
The MPs also dwelt on the issue of cleanliness, mainly in the lavatories and restaurant, where they complained about lack of tissue papers and having to share the facilities with non-members. They also lobbied to outsource the catering services.
They also criticised the House leadership for not complying with the disability laws and ensuring there are facilities reserved for the disabled as well as for breast-feeding mothers.
Mr Machogu's report was written after the National Assembly's Committee on Members' Service and Facilities, which he chairs, concluded a bench-marking visit to the parliaments of the United Kingdom and Northern Ireland to assess their facilities and services and draw lessons that could be replicated in the National Assembly.
Spurred on by tales of 'luxuries' in the West, speaker after speaker outlined a myriad of complaints, which they argued impeded their daily work.
"The car grant, mileage allowance and mortgage scheme do not take into account the current prevailing market rates. We have proposed implementation in three phases: those to be done immediately by the Parliamentary Service Commission (PSC) chaired by Speaker Justin Muturi, medium term to be actualised in six months and long-term proposals," said Machogu last Wednesday when he moved a motion on the adoption of the report with 48 recommendations.
The MPs took issue with the disparate payment of State officers and their lack of access to house allowances.
They questioned why Cabinet secretaries, who they vet after being appointed by the president, were entitled to round-the-clock security while they were restricted to only one police officer.
Machogu noted that due to lack of policy on cleaning standards at the facility, it was not done as required.
"The gymnasium is not in a good condition. The equipment is obsolete, most areas are not properly maintained and it has poor ventilation. This is a safety hazard," he said.
The existing library, according to Machogu, lacks the necessary resource materials and adequate space for those who want to do research.
Little wonder Nominated MP Godfrey Osotsi censured his colleagues whom he said dashed to the lobby for tea, or to the bar, instead of going to read.
"The PSC should consider developing a standard and decent uniform for catering and health club and ensure strict adherence of the same. In the long term, PSC should consider renovating the current kitchen, restaurant, bar and members' lounge.
MPs also want two more catering units set up, in addition to the main restaurant, at the Red Cross building and County House.
"Each unit to be allowed to work competitively to facilitate efficiency in service delivery. PSC should consider developing a training plan for the catering staff based on proposed skill audit and explore attachment of staff in five-star hotels within the country," said Machogu.
While seconding the report, Gem MP Elisha Odhiambo said the House lacks efficient security.
"We need state-of-the-art cameras and a screening system where members can follow proceedings within the premises of Parliament and ensure all events are recorded. This is a House of records," said Odhiambo.