New twist as Tob Cohen's sister leaves the country before burial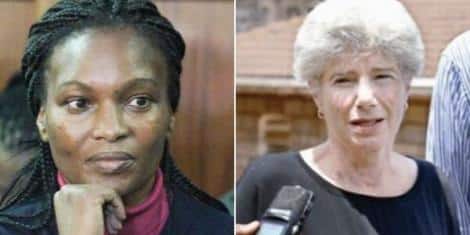 New twist as Tob Cohen's sister leaves the country before burial: Ms. Gabrielle Van Straten, the sister of murdered Dutch tycoon Tob Cohen, will not attend her late brother's burial scheduled for Monday despite having been at the forefront of the funeral arrangements.
In a quite unexpected turn of events, Gabrielle flew out of the country on Saturday just a day after her late brother's will was opened.
Her Lawyer Cliff Ombeta disclosed to Citizen TV that Gabrielle and her husband had returned to their home in Netherlands due to personal reasons.
According to Ombeta, Gabrielle had already completed her stay in the country and had to resume her other engagements back home.
Gabrielle was expected to attend the burial alongside close family members and Cohen's widow Sarah Wairimu, who is a key suspect in the murder of her brother.
On Friday, Cohen's siblings were presented with his will, which remains private, even as his estranged wife Wairimu and her legal team kept away preparing to contest the will in court.
According to insiders, Cohen who did not have a child left 50 percent of his estate to his sister Gabrielle and the other 50 percent is to be split into half between his nephew and niece.
His bank balances are supposed to be channeled to his sister, Gabrielle.
Sources close to the family revealed that the already contentious will has expressly left out Wairimu from inheriting anything in Tob Cohen's estate.
Earlier on, there was a push-and-pull over the funeral modalities as both Gabrielle and Wairimu claimed the right to bury the deceased billionaire.
Cohen's sister had demanded she be given the body as soon as the post-mortem is conducted but Wairimu objected insisting that despite the murder charges against her, she is still the widow and entitled to burying her late husband.
The two parties, however, reached an agreement and their lawyers, in a joint press address, announced that Sarah and Gabrielle would both take part in the family-members-only burial.
Wairimu is currently remanded at the Lang'ata Women's Prison as police complete investigations into her alleged involvement in the murder of her husband.
Her lawyer is set to file an application on Monday to have the court allow her attend the burial scheduled to take place at a Jewish cemetery in Nairobi.
Source-citizentv.co.ke