Kenyans Tourists Raise Discrimination Concerns in Kenyan Hotels
Kenyans Tourists Raise Discrimination Concerns in Kenyan Hotels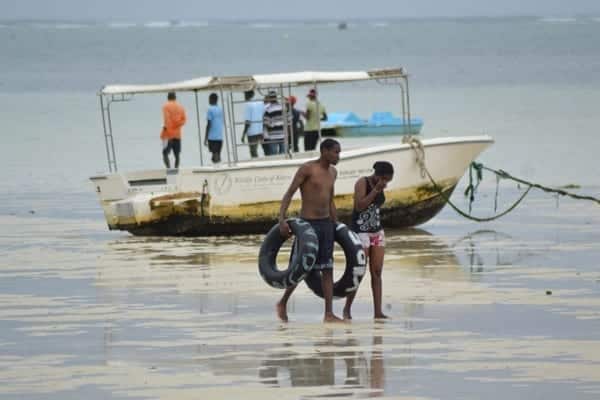 IMAGINE saving up for your dream holiday only to be told that you cannot be allowed in a hotel of your choice because of your skin colour or nationality.
Some local hotels have lately come under criticism for selectively picking clients on basis of colour thus hampering efforts to grow domestic tourism. Several Kenyans encountered racism over the festive season and thanks to social media, highlighted the experiences on twitter and facebook to express their outrage of being discriminated on in their own country. "Oh wait and there's also a place in Diani where Africans are not allowed to swim,''tweeted singer Talia Oyando last month.
Kenya Tourism Board, the organization responsible for marketing the destination notes that such incidents negate its efforts and thus urged people to report such happenings to them. "We have a complaints unit which handles problems that tourists may face and since January last year the domestic tourism department was moved from the Ministry to be under KTB so local tourists can come to us if they have problems," commented KTB Managing Director Muriithi Ndegwa.
Tourism Minister Najib Balala was more tough talking. "The minister has the powers to revoke a license of any establishment if its found to be operating or infringing on people's constitutional rights or if it is found that the operations of the establishment are not good for the industry," said Balala in an email response.
However not everyone is convinced on the ability of government to act on these cases noting that very many government officials turn a blind eye to such incidents. "I was ejected from the Billionaires Club in Malindi by a police officer who is part of the security team of the billionaire who owns that hotel. Even the highest provincial security office in that region is in on this and supports these people (the discriminating hoteliers) because they are 'well looked after'," complained Mpuri Aburi.
Aburi claims he had gone to the Billionaire Club in Malindi to have a meal with his wife and it did not take long before the owner of the hotel walked to his table and started shouting at him to leave. "He is the one who called the police, armed police mark you, to come remove me yet I had money to spend. It is not like I would enter such a place without enough money but they only allow Italians," added Aburi.
On its part, the Billionaire Club in Malindi denied the claims and explained that it closes off the place to other visitors when they have celebrities booked into their premises. "Last week we had a group of people from Nairobi so it is impossible that someone accuses us of discrimination yet we have even African workers here and we intend to employ 400 more soon," commented Sabina Vivaldi of the Billionaire Club.
Domestic tourism by basis of bed nights in hotels accounts for 20 per cent of all the profits made by the industry. Following the post election violence that crippled the tourism industry, the ministry embarked on growth of domestic tourism niche which is a resilient market in times of travel advisories or political instability.
Under the new Tourism Act, a tourism regulatory authority will be launched in July to streamline operations in the industry said Balala. "Things such as criteria for licencing, data bases for industry players , code of conduct for membership and associations within the industry will be streamlined with the new regulatory body," Balala said.
Consumer Federation of Kenya reveals that most of the racism incidents are reported in Malindi and Diani. "We have received numerous complaints but we have not documented any evidence. The discrimination complaints are not just about being African but sometimes take the shape of barring some nationalities to enter specific hotels," explained Secretary General Stephen Mutoro.
For instance in Malindi which is known to have many Italian tourists, there are some hotels that even if you are white, Mutoro adds, you will not be allowed in unless you are Italian. He notes that such establishments are usually the ones notorious for dubious activities like under age sex cases. Italy is one of the top five tourism source markets for Kenya. Between Jan and October last year, the number of Italian tourists into Kenya grew by 16.8 per cent representing 77,990 visitors. It was the third highest in terms of arrivals after the UK and US.
It is however not clear what Kenya Association of Tour Operators knows or does about this issue as they did not respond to the Star's requests for comment. Tour operators are the ones that handle hotel bookings for most tourists. However, some of these operators have been accused of being rogue to the extent of conning clients money or switching them to hotels they did not desire.
KATO at the moment can only discipline rogue tour operators who are on its member list. But it is impossible for the organization to reign in on non members as it has no legal power to do so. "Currently , once a rogue tour operator has been identified, he is arrested and charged in a court of law. Operating licenses for such people are also withdrawn hence removed from the industry henceforth," commented Minister Balala.
Though the issue of discrimination is threatening to derail plans to diversify tourism source markets and growth of domestic tourism, some local tourists are determined not to let such incidents dampen their travel and leisure plans. "It is our country and we have a right to respect and to travel wherever in this country we want.
The new constitution emphasises these rights and the same way a rich man can spend maybe Sh100 for a cup of tea at a high end hotel is the same way I will also spend my Sh100. Its not like they pay more for services rendered by these hotels," remarked Aburi. His parting shot; "I will still go back to Malindi and to that same hotel where I was ejected because Kenya is not anyone's colony anymore so these apartheid like behaviour must end. In fact this time round I will not only go with my wife, but with my kids too!"
Source: http://www.the-star.co.ke/business/features/58633-domestic-tourists-raise-discrimination-concerns