Homeless Kenyan in US hospitalised as doctors seek next of kin
Homeless Kenyan in US hospitalised as doctors seek next of kin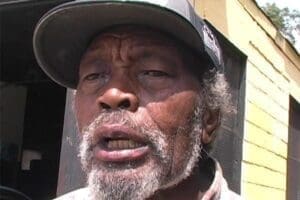 A 67-year-old homeless Kenyan, who wanted to return home after 46 years in North America, has been hospitalised in Atlanta, Georgia, in the United States.
Sources at Grady Memorial Hospital in downtown Atlanta told the Nation on Tuesday night that Mr Timothy Majanja was "in critical condition and we must perform a specialised procedure on him".
A medical assistant, who spoke on condition of anonymity as she was not authorised to talk to the media, said doctors and hospital personnel had made frantic efforts to trace Mr Majanja's next of kin to give consent for the undisclosed procedure.
And in an email to the Nation on Tuesday, an official at the Kenyan embassy in Washington, DC, said the hospital had been in touch, seeking help in tracing Mr Majanja's relatives.
"But I was not able to talk to him as I was informed that he is not coherent," said Ms Evelyn Cheluget, the immigration attaché at the Kenyan mission.
46 YEARS IN NORTH AMERICA
Mr Majanja was in the news in early October when NTV aired a story in which he appealed for help to return to Kenya after living in North America for an uninterrupted period of 46 years.
On October 2 this year, Mr Majanja told the Nation he would have liked to go back to Kenya to rejoin his family but did not have any travel documents.
He said he left Kenya for Canada in 1968, moved to the state of Georgia in the United States in 1993, and has been living in squalor since losing his job 21 years ago.
"I have been leading a miserable life here and it is high time I left this country," he told this reporter in an interview on Memorial Drive in Atlanta, Georgia.
After the story aired, Mr Alphonce Shikoli, Majanja's elder brother, told NTV's Namukabo Werunga that the family was excited to know that their relative was alive.
"We eagerly await the return of our 'prodigal son'. We are fattening a bull to slaughter upon his arrival," said Shikoli at his rural home in Lupao Village, Kakamega County.
News of Mr Majanja's ailment comes barely three weeks after another Kenyan with no fixed abode passed away after one month in treatment at Atlanta hospital.
Alfred Mugo's body was flown to Kenya last weekend after well-wishers, most of whom did not know him, came together to raise funds to help pay for the funeral back home and transport expenses.
Two of his Kenyan homeless friends have since been taken in by Christ Harvesters Ministries, a Kenyan community Church in Atlanta.
"We have been paying for their upkeep at a hotel as we seek the way forward," said Mr Richard Kimani, a member of the church.
When Mr Majanja's story broke, the embassy said it would follow up with him with the aim of assisting with travel documents and other logistics.
However, in an interview with the Nation a fortnight ago, Mr Majanja expressed disappointment, saying he did not receive any assistance.
"The embassy has totally failed me. I don't know who else I can turn to," said Mr Majanja as he fought off tears.
During the interview in October, he appealed to the Kenyan government, through the Ministry of Foreign Affairs, to help him out.
Mr Majanja said that in 1973 he was recruited by the Canadian government into the prestigious Royal CanadianMounted Police, where he served before venturing into politics.
He said he ran for political office as a city representative in Calgary, Alberta, before unsuccessfully contesting a vacant mayoral seat.
Mr Majanja, however, refused to disclose when or why he left the Canadian police service.
"That matter is confidential," he said.
After relocating to Atlanta, he worked for a transport company before losing his job.
"I lost my driver's licence and all the other documents which I had kept in a safe deposit at a local bank," he said.
Majanja said he has sought help several times from the US and Canadian governments without success.
"I have no single document and can't travel anywhere," he said, adding, "I appeal to the Kenyan embassy to give me some travel documents so I can visit my relatives back home."
He showed photos of his sojourn in Canada in which he looked young and energetic.
"I married a Canadian woman and we had a son, but now I can't even travel there to visit them," he said.
"I thought I was strong enough, but now I need help," added Mr Majanja, who looked weak and a pale shadow of his former self.
Though hardly reported due to the stigma associated with homelessness, drug addiction or mental illness, cases of destitute Kenyans living in the United States have risen in recent years.
In 2012, the body of a homeless Kenyan was discovered in a lake near Boston, Massachusetts.
Early this year, police in Atlanta found a homeless and mentally unstable Kenyan man in a forest in Decatur, Georgia.
The authorities handed over the man to the pastor of a Kenyan community church, who asked the congregation to raise money for his upkeep and eventual repatriation to Kenya.
In May, he was reunited with his family in Kenya.
-nation.co.ke
Homeless Kenyan in US hospitalised as doctors seek next of kin: