33 pc of Kenyans say Raila should not contest again: IPSOS
33 pc of Kenyans say Raila should not contest again: IPSOS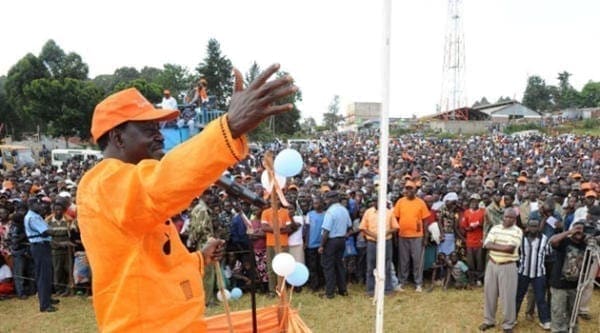 NAIROBI, Kenya, May 30 – A new survey by IPSOS Kenya has revealed that 33 percent of Kenyans believe that CORD leader Raila Odinga should retire completely from politics.
According to the report, 27 percent of those polled were of the opinion that the former Prime Minister should continue to work with his political party but should not contest during the next General Election.
Only 34 percent of Kenyans, according to the study, believe that Raila should remain active in his party and even contest the presidency in the next election if he wants to.
"Among all respondents, one third are of the view that Raila should indeed retire from politics completely with a statistically identical proportion (34%) holding the opposite view: that he should remain active and even contest the next presidential election should he desire to do so (and receive his party's/coalition's nomination, of course)," a statement from the organization indicated, summarizing the findings.
Recently, controversy has arisen with regard to the bill passed in parliament providing pensions for both Raila and former Vice President Kalonzo Musyoka.
"In terms of political party/coalition alignment, the gap in terms of the options is considerable however. Over five times more CORD than Jubilee supporters would like to see him contest again (67% vs. 14%), with the numbers even more reversed regarding the "retire from politics completely" option (Jubilee supporters – 53%, CORD supporters – 8%; note here that in May, 2014, 11% of CORD supporters felt he should not contest a future election, so it will be interesting to see in future surveys how much lower this current figure of 8% will go)," the statement states in part.
President Uhuru Kenyatta declined to sign the bill on grounds that such benefits would only be appropriate once the two retire from politics.
Raila has insisted his eyes are firmly trained on capturing the president in 2017, telling off those asking him to resign.
The Head of State did not sign the Bill because of Raila and Musyoka's continued involvement in the country's political affairs.
33 pc of Kenyans say Raila should not contest again: IPSOS