Court orders Midiwo arrest over Raila assassination claims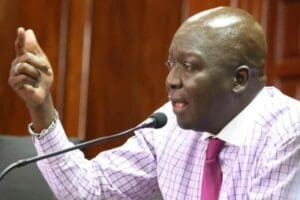 The High Court in Kisumu on Monday ordered the arrest and prosecution of Gem MP Jakoyo Midiwo for claiming that Cord leader Raila Odinga's life was in danger.
Justice Hillary Chemitei dismissed an application by the National Assembly deputy minority leader that had challenged a bid by the Director of Public Prosecutions (DPP) to arrest him over the claims.
Mr Midiwo made the assassination claims at a funeral in Bondo in April 7, 2012.
He said some officials in the Ministry of Foreign Affairs, led by then minister Sam Ongeri, had plotted the kill Mr Odinga, who was then the prime minister.
Prof Ongeri later swore that he was not involved in any such plan.
"Chairman, they want to kill you. You are about to die in a few weeks to come. I am ready to record a statement even before the Bondo OCPD to confirm the seriousness of the matter," Mr Midiwo is quoted as saying.
Mr Midiwo was arrested two days after he recorded a statement with the CID in Nairobi.
In his case, Mr Midiwo had asked Justice Chemitei to quash the DPP's arrest warrant, saying he should not be arrested but congratulated for blowing the whistle on the plot.
But the DPP, through State Counsel James Warui, told the court that Mr Midiwo had failed to substantiate his claim and had made the assassination plot remarks to gain political mileage.
In his ruling on Monday, Justice Chemitei said the Cord MP had not proved his case.
"It is my finding that the petitioner has failed to demonstrate that the intended prosecution was driven by another purpose other than justice and enforcement of the law. The same is hereby dismissed with costs to the respondents," ruled Justice Chemitei.
-nation.co.ke