The big names Jacob Juma had fierce legal battles with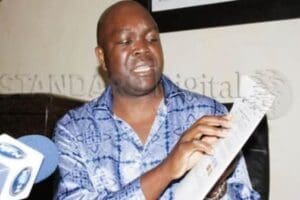 The big names Jacob Juma had fierce legal battles with
Nairobi, Kenya: Controversial businessman Jacob Juma was a common face in the corridors of justice.
He visited the courts to sue or defend himself in criminal and civil matters, some which touched on senior personalities.
From Deputy President William Ruto, Mining Cabinet Secretary Najib Balala to prominent lawyer Ahmednassir Abdullahi, Juma engaged in many a court battle.
But it was his never-ending legal tussles with fellow businessman Bryan Yongo, a friend-turned-foe, that preoccupied most of his court life.
It is the litany of winding criminal and civil suits involving the two — against each other, separately suing other people, and filed against them both — that reveals the intense level of animosity and their reputation as indefatigable litigants.
Many court cases show the extent the two were willing to go in pursuit of their goals.
Top lawyers, Government officials, business partners, private companies, parastatals and banks were not spared.
Deals gone awry
The recent incident where Mr Yongo was charged with threatening to kill Mr Juma adds to a horde of criminal and civil cases that are littered across their lives, many involving business deals gone awry.
Court documents in one of the criminal cases indicate that the two started their engagement as early as 1997 when Juma supposedly contracted Yongo to run some business errands for him.
They, however, fell out in March 2012 after Yongo allegedly sent Juma abusive messages and threats on his phone.
Juma reported the matter to the Directorate of Criminal Investigations and Yongo was subsequently charged before a Kiambu Magistrates' Court. The latter challenged the prosecution before the High Court and the case is still pending.
Yongo last year was taken to court again and charged with threatening to kill Juma. He appeared before a Kibera court in December. According to the prosecution, he was found with a pistol and 20 bullets.
Juma claimed he was in his house in Nairobi one evening when he saw Yongo and a group of men camped at his gate. He claimed they were getting "ready to execute me".
But Yongo defended himself, saying the charges were brought against him to settle scores regarding extraneous issues between him, the police and Juma. The case is also pending in court.
Recently, Yongo was allowed by a Nairobi magistrate to institute a private prosecution against Juma on accusations that he forged a title deed for a piece of land worth more than Sh400 million.
He lodged the criminal case against Juma on behalf of two complainants, Ashock Rupshi Shah and Hiten Kumar Raja, who are claiming ownership of the land in Nairobi's Loresho.
Yongo said he filed the case after the Director of Public Prosecutions (DPP) failed to prosecute Juma over alleged forgery and perjury.
"I decided to prosecute Mr Juma on the basis of sections 47, 48 and 258 of the Constitution because the DPP has failed or neglected to exercise his constitutional mandate and obligation despite overwhelming evidence being brought to the attention of his office," said Yongo in court papers.
Another battlefront involving Juma, Yongo and Ahmed Abdullahi later surfaced over a contract for Erad Supplies to deliver 40,000 tonnes of maize to the National Cereals and Produce Board (NCPB).
Heavy losses
Juma sued the State corporation seeking Sh500 million for alleged breach of contract.
He never supplied the maize but claimed he incurred heavy losses in profits and storage costs. The case was later referred to an arbitrator, Evans Thiga Gaturu, who ruled in favour of Juma's company in July 2009 and awarded Erad $3,106,000 (Sh266.9 million).
The dispute is pending at the appellate court after NCPB lost the case in the High Court.
Yongo, who later alleged fraud in the contract between Erad and NCPB, claimed he was contracted by the company as a debt collector and expected to be paid at least Sh25 million upon successful completion of the job.
On the other hand, Mr Abdullahi offered Juma legal services to recover the money from NCPB. But Juma dismissed  Yongo's claims as the "fabrications of a con man".
A habitual litigant, Yongo has previously lodged winding-up suits against the fallen Invesco Insurance demanding Sh14 million in debt collection fees. He obtained orders and disposed the firm's assets in a public auction to recover the debt.
He again filed a winding-up case against Equity Bank contending that Neptune Credit was owed Sh10.2 million by the bank as commission for collecting a debt. He alleged the bank had reneged on the payment.
In its defence, Equity said the agreement between the bank and Neptune was clear with regard to its scope and duration and termed Yongo's actions a "feeble attempt to bully the bank, under a threat of negative publicity and embarrassment, into paying the sums that are not due". The case was thrown out.
Subsequently, Yongo and his company were fined Sh500,000 each or 30 days in jail for contempt of court by then High Court judge Muga Apondi for filing the winding-up suit despite a court order stopping them from doing so.
Like his nemesis, Juma had also filed many cases against individuals, banks and business partners.
Juma recently sued a company accusing it of grabbing some 1,600 acres worth Sh1.5 billion meant for the development of a sewer treatment plant in Ruai, Nairobi.
Juma argued that before the transfer and registration of the land in favour of Renton Company on April 12, 1996, the property had already been acquired by the Government for public use.
In August last year, Juma filed a case seeking to have Nairobi Governor Evans Kidero's accounts frozen, claiming he received Sh650 million on behalf of Mumias Sugar Company and failed to deposit it.
Juma relied on allegations made by Kakamega Senator Boni Khalwale who claimed that Dr Kidero received the funds on behalf of Mumias Sugar as envisaged in the sales agreement between Mumias and YH Wholesalers in 2012 for the sale of 13,450 metric tonnes of sugar.
Juma had also filed two cases against Ruto. In the most recent one, the businessman sued the deputy president over the controversial Weston Hotel on Lang'ata Road, Nairobi, which he linked to him and claimed the land on which it was built was grabbed from the Kenya Civil Aviation Authority.
The civil suit, where Juma had wanted Ruto to surrender the prime property to the public, has been ongoing in the High Court.
Ngong Forest
In 2003, Juma went to the High Court to have Ruto pay more than Sh730 million to Kenya Pipeline Company (KPC) after a fraud case against him and others was dismissed by court.
He claimed the money was payment the DP allegedly received for selling a parcel of land in Ngong Forest to KPC.
Ruto had earlier been charged together with Joshua Kulei and Baringo Central MP Sammy Mwaita. But the three were acquitted by the then Nairobi Chief Magistrate Gilbert Mutembei for lack of evidence.
The case collapsed after the prosecution's key witness, Hellen Njue, KPC's chief finance manager, failed to appear in court to testify. It was after this that Juma went to High Court seeking to have Ruto compelled to repay the millions.
The case has never been resolved.
In yet another incident, Juma once sued Mr Balala after the licence of Cortec Kenya Ltd, a mining company in which he is a director, was cancelled by the Cabinet secretary.
He also sensationally alleged that Balala had demanded a bribe of Sh80 million.