Uhuru, Raila ordered my deportation, Miguna now claims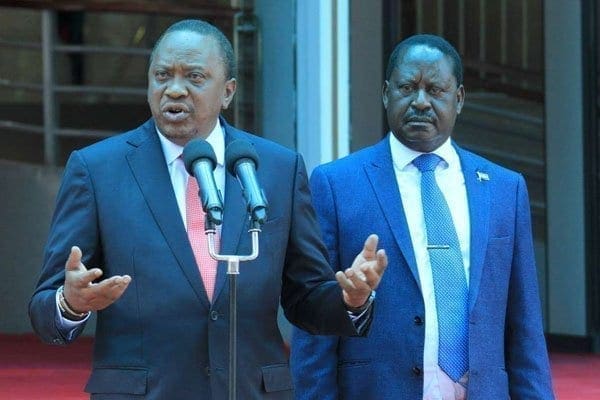 Besieged lawyer Miguna Miguna has now suggested that President Uhuru Kenyatta and Opposition leader Raila Odinga are behind his deportation to Canada.
"This order could only have come from the President himself and I suspect even those he has entered into deals with," Miguna told a Turkish TV on Wednesday night.
Though he did not mention Raila's name in the NewsMakers interview, Uhuru has only entered into a deal with the Opposition leader to enforce reconciliation and peace.
In a rare show of unity in March, the two told Kenyans they had set their differences aside and would work to unite the public.
The two met at Harambee House office of the President before addressing the press.
They neither specified their strategies nor took any questions.
"It is not easy for the Interior CS to disobey 10 court orders on my release. They wanted me to return to Kenya as a foreigner… and then decide to remove and detain me anytime they wanted,"Miguna said.
Noting that the struggle and liberation continues, the lawyer said he will fight against oppression until justice is served.
"Today is the 50th anniversary of Martin Luther King. He represents civil rights struggle against oppression… Nelson Mandela went to jail for the same… many people have gone through the same experiences," he said.
"… no matter what the oppressors do, no matter how brutal they are, eventually they will lose and in this case, they will lose…I will continue with the liberation of Kenyans…the fact is that 10 court orders say they are wrong and I am right."
The deported lawyer was sedated before he was moved to Dubai then to Canada last week.
But the Interior CS Fred Matiang'i claimed that the lawyer was not deported.
The Cabinet Secretary said this when he faced the National Assembly Security committee on Tuesday.
He added the lawyer and self-declared leader of the NRMKe was not deported and that his passport was not confiscated.
"Miguna was not deported. We removed Miguna as an undocumented, unestablished passenger on transit to his last port of call," the CS said.
Miguna finally arrived in Toronto, Canada, after spending four days at the Dubai International Airport.
Lawyer Nelson Havi said Miguna travelled to Canada on his own volition and with the assistance of the Canadian consulate in the UAE.
He left for Canada to seek medical examination, Havi said.