DP Ruto comes out on wealth rumour, says ready for lifestyle audit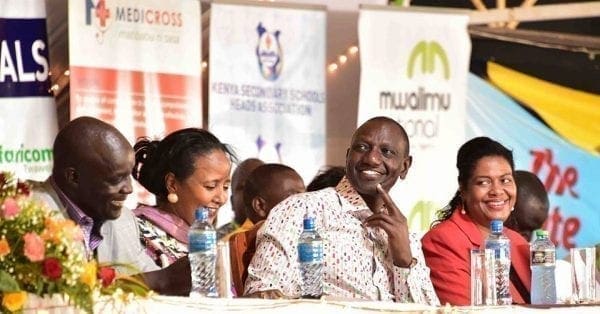 NAIROBI, KENYA: Deputy President William Ruto on Wednesday said he has nothing to hide on his wealth acquisition and dismissed media speculation on source of his billions.
While addressing teachers in Mombasa County, Ruto questioned motive behind media reports on his wealth highlighting that he is ready for lifestyle audit in a new scheme announced by President Uhuru Kenyatta recently
Ruto said he has nothing to hide despite rumours doing rounds in the media about what he owns and how he acquired his wealth.
"The other day I saw the media trying to write something on what I own. Well…I thought they would continue the following day with another leader. But I saw nothing…it seemed the agenda was me because it started and ended on me," he joked.
"I  will submit myself for a lifestyle audit in a new scheme announced by President Uhuru Kenyatta recently," he said.
Speaking during the 43rd Annual National Conference of Principals at Wild Waters in Mombasa County on Wednesday, Ruto noted that every leader must undergo the examination.
The Deputy President observed that unless tackled now, corruption cases would dwarf the development plans that are being pursued by the Government.
"It is a serious threat. We cannot attain the Big Four agenda if these vices are not tamed. That is why I will also undergo the lifestyle scrutiny," he said.
Ruto said it was time Kenyans joined hands and fought corruption "if we are to make our country move forward".
The debate on lifestyle audit was triggered by President Uhuru Kenyatta mid this month following mega corruption in ministries and state departments linking government officials to theft of public funds.
In his address, the President said that all Government officials and their families will undergo a lifestyle audit as a step towards ending graft in the country.
"We are aware some of these corrupt individuals have registered their wealth, including cars and houses, in the names of their spouses and children. We will go for them also," said Uhuru.
Meanwhile, the Ruto has said that the new education curriculum to be implemented will focus more to science, technology, engineering and mathematics in a bid to making Kenya an industrialised economy.
He said the transformation would also see schools adopt continuous assessments "rather than a single, win-or-lose, and final examination."
Once implemented, the new curriculum is expected to churn out inventors, innovators, leaders and game-changers.
"These are the brains that would then elevate Kenya to the next level of development; upper middle-income," said Mr Ruto.
The Deputy President observed that an education system that imparts problem-solving skills to learners would make Kenya not only competitive but also model future leaders.