DP William Ruto's allies register two new parties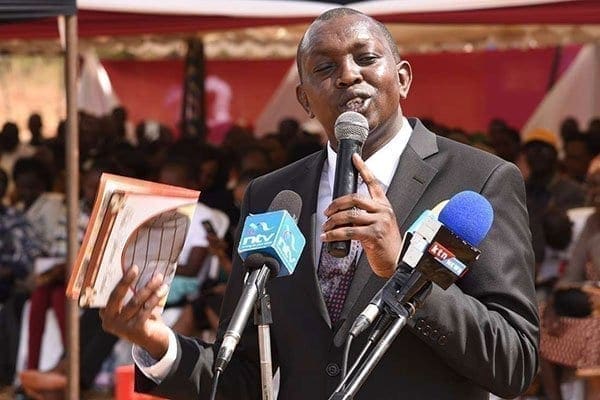 Revelation that two new political parties with links to Deputy President William Ruto are in the works could threaten the already bad blood and suspicions in the Jubilee Party.
On Tuesday, the Registrar of Political parties Lucy Ndung'u told the Nation that United Green Party (UGP) and Grand Dream Development Party (GDDP) were recently issued with certificates of registration, parties we gathered are associated with politicians from the Rift Valley.
"We have issued provisional registration certificate to the two parties but I cannot give you the details of the interim officials because I am not in office," Ms Ndung'u said. She promised more information today.
A source at Ms Ndung'u's office intimated that the DP's lieutenants recently visited to finalise the registration of the new outfits.
The MPs linked to the party include Cornelly Serem (Aldai), Nandi Senator Samson Cherargei, Oscar Sudi (Kapsaret) and Caleb Kositany (Soi) among others.
DECLINED TO SPEAK
They have, however, declined to speak on the matter. Mr Sudi is on the record saying the recent lifestyle audit on all civil servants ordered by President Uhuru Kenyatta was targeted at the DP and challenged the president to begin with his father, the founding president if he were to be taken serious.
Ms Ndung'u remarks came on the day that Mr Cherargei said that they were shopping for a new vehicle for the DP for the purposes of 2022 polls.
"We are thinking of a new vehicle ahead of 2022. We cannot work with saboteurs, we cannot work with those who think they can block DP's 2022 bid. We can't work with our enemies," said Cherargei.
Coming at a time glaring divisions have begun to show between supporters of President Kenyatta and Mr Ruto, the development has attracted much interest with some analysts convinced that these are early signs that the DP is spreading his risks should some of the president's men keen on frustrating his ascension to the State House dig in further.
REVIVE URP
Asked about talk that someone had tried to revive URP party, Ms Ndung'u explained that this was not possible in law.
"When parties agreed to merge/fold, there is a clause which bars them from using the names or symbols of the former parties until after five years lapse," she said.
URP, Mr Ruto's party and TNA led by Mr Kenyatta, were among some of the 12 parties which were dissolved in the run up to the August 8 elections creating the Jubilee Party.
The history of our politics is replete with politicians changing parties every so often, Mr Ruto having moved from ODM, a brief sojourn to UDM, URP and then to Jubilee in the last five years. This is not unique to him.
GROWING RIFT
Senator Cherargei's sentiments add to the growing rift within Jubilee after Senate Majority Leader Kipchumba Murkomen threatened to name senior State House officials he claimed are out to stop Ruto's 2022 presidential bid.
Mr Murkomen, Mr Cherargei and Mr Sudi have been vocal against the planned lifestyle audit saying that it's pure witch-hunt and targeting a specific individual.
"Waking up every morning and going to count properties of individuals and comparing with their salaries is not feasible. It does not make sense," Mr Murkomen said.
Majority Leader in National Assembly and Garissa Town MP Aden Duale dismissed the new development saying that both Kenyatta and his deputy are in Jubilee to stay.
"That is hot air. All the parties were merged for the purposes of serving Kenyans and now we are focused on building bridges," said Duale.
-nation.co.ke