Gideon Moi heckled by group chanting William Ruto's praises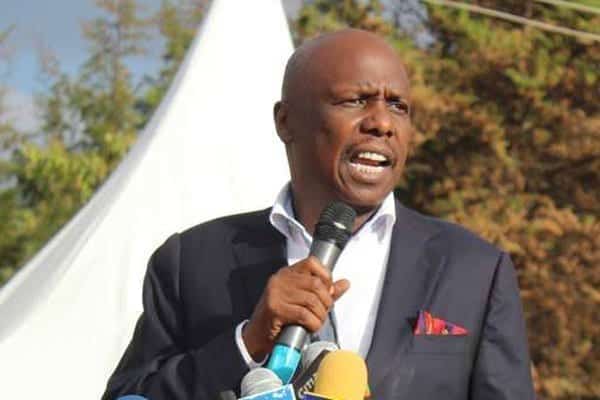 Baringo Senator Gideon Moi has told his opponents to rest easy as he has not declared interest in the country's presidency.
During a fundraising in Sotik yesterday, Mr Moi was heckled by a group chanting Deputy President William Ruto's praises.
Some people in the crowd at St Phillips Anglican Church told the senator to forget presidency "since Rift Valley is firmly behind Mr Ruto."
The group was later ejected from the church by police officers.
INSULTS
When he rose to speak, Mr Moi said he had not told anyone that he will contest the presidency in 2022.
"I am not interested in anybody's position for now. Some people get jitters at the mention of my name," the senator said.
"There is no need to hate one another or hurl insults."
Mr Moi was accompanied by Tiaty MP William Kamket who said he backs the war against corruption.
CORRUPTION
"Those castigating the fight on corruption have shown that they have something to hide. They should be arrested and prosecuted," the MP said.
Kanu Secretary-General General Nick Salat asked Rift Valley leaders to go slow on politics, adding that it is slowing down development.
Kerichi ACK regional leader Earnes Ngeno said Christians fully support the against corruption.
He said if corruption is tamed, the country can register immense economic growth.
Mr Moi's party has not fielded a presidential candidate in the last three elections.
MEETINGS
Its last candidate was Mr Uhuru Kenyatta who lost to Mr Mwai Kibaki in 2002.
But there is a belief in the country that Mr Moi could gun for the seat.
He has toured the South Rift three times in less than two weeks, attending youth meetings and causing a political stir in the region deemed to be the support base of Mr Ruto.
Details of Mr Moi's first visit emerged when photos of him being hosted by Kericho Governor Paul Chepkwony on June 17.
It was at a function at Chebwagan Youth Centre in Bureti Sub-County. The senator went back a week later.
FREEDOM
Whereas the reactions to the visits were mixed, some Jubilee supporters openly questioned Mr Moi's agenda and accused Governor Chepkwony of being a Kanu operative.
Kapsoit Ward Representative Paul Chirchir said the Constitution allows freedom of assembly and speech "but the people of Kericho will not allow the idea of their county being used to show a false image of leaning towards a dead party."
Kipkelion West MP Hillary Kosgei said the meeting between the two was inconsequential, and that if it were important, other leaders would have been invited.
INVESTOR
"We take it as a private forum, like we usually see Gideon take photos with Kirinyaga or Mombasa governors. Gideon is not bold enough to face Rift Valley residents and ask for votes. All he does is photo sessions," Mr Kosgei said.
However, Prof Chepkwony's defenders were on the offensive, reminding critics that Senator Moi is an investor and has the freedom to move to any part of the country.
Mr Moi owns a tea factory in Kericho County.
The governor said Senator Moi had just flown in to condole with him following the death of his uncle, Stephen Kerio, a former county council clerk, who was buried on Saturday.
-nation.co.ke