Kenya deploys security forces along its border with Somalia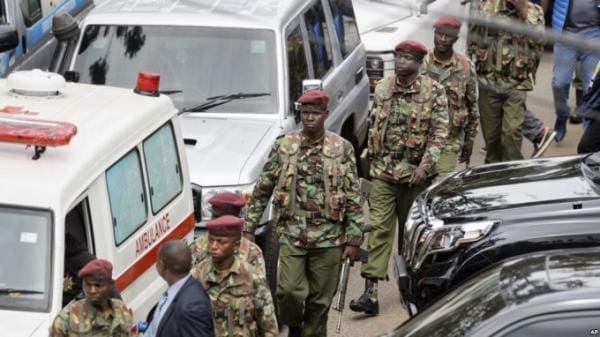 NAIROBI (Halbeeg News) – Hundreds of Kenyan forces have been deployed in areas near Kenya's border with Somalia weeks after consecutive attacks shook Nairobi.
Mohamed Birik, North Eastern regional commissioner who spoke to the media said the government intensified security patrols at the border points with Somalia to halt intrusion by Al-Shabaab fighters.
The official pointed out that enhanced security measures have been implemented since mid this month when suspected Al-Shabaab fighters attacked a hotel in Nairobi.
"We have secured our roads and international borders so that we give al-Shabab no space to operate and have no freedom to do their evil work in Kenya," Mr. Birik said.
He said the government has also boasted the security of major supply roads where civilians lost their lives following planting of improvised explosive devices by Al-Shabaab.
Birik said security personnel has intensified the hunt for suspected al-Shabab militants and their sympathizers hiding in the expansive northeastern part of the country.
According to Mr. Birik, the reservists who are drawn from retired security officers have been deployed to hotspots.
"They will help the police in securing their respective villages while also protecting important government installations and water points," said Mr. Birik.
In 2014, the government commenced construction 700 km wall on the Kenya-Somalia border which stretches from Mandera town in northeast Kenya to Kiunga town in the coastal region.